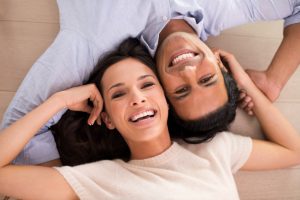 In 2017, you could make another resolution that you probably won't keep. Or, you could try setting a specific, achievable goal — like visiting your dentist in Newburyport! Resolve to make this new year the one you finally do something to improve your smile. Dr. St. Clair, Dr. Beliveau, and Dr. Strauss are here to help with superior cosmetic services.
Benefits of a Complete, Beautiful Smile
Maybe cosmetic dentistry seems extravagant, or at least like it's not really a priority. But when you consider the fact that a full, healthy smile you feel great about flashing actually improves your health, you may be more inclined to seek a solution for dental flaws.
In addition to the psychological benefits you will enjoy from smiling more, cosmetic dentistry also helps your teeth line up properly — making them easier to brush and floss. So seeking the treatments you need to feel great about your smile can actually help you enjoy your healthy teeth and gums for a lifetime to come.
What are your cosmetic options at Dental Partners of Newburyport? Porcelain veneers and dental implants are two of the most popular.
Porcelain Veneers: Like a Smile Do-Over
For imperfect teeth in the front of the smile, porcelain veneers can provide a dramatic smile do-over. These thin shells of dental porcelain completely cover the front surface of each tooth. In just two visits to the cosmetic dentist in Newburyport, we can completely remake the size, shape, color, and overall appearance of your front teeth.
Porcelain veneers fix any number of cosmetic imperfections all at once. They are an excellent option for teeth that are…
Chipped, broken, cracked

Stained or severely discolored

Slightly gapped or misaligned

Oddly textured or misshapen
Most adults are good candidates for porcelain veneers. When cared for properly, veneers can last for a decade or more.
Dental Implants: A Comprehensive Solution to Tooth Loss
Despite improvements in dental hygiene and better access to preventive dentistry, the average adult over the age of 35 is missing at least one tooth. And the side effects of tooth loss are significant — problems with speech, poor nutrition, and additional missing teeth are all likely to occur if the tooth is not replaced.
Dental implants provide a comprehensive replacement that halts the side effects of tooth loss. By replacing your tooth's root as well as its visible crown, dental implants stabilize your jawbone and provide unsurpassed stability for your new tooth or teeth.
The benefits of dental implants include…
Better oral and overall health

The most natural-looking replacement

No slippage or discomfort

A long-lasting investment
If you are missing one or more teeth, do not hesitate to find out about having them replaced with dental implants. Eligible candidates have great success with implant replacement, enjoying better oral and overall health for many years to come.
Get Started on Your Best Smile Today
Make 2017 the year you do something about your smile! We want to help. To discuss what's possible with porcelain veneers, dental implants, or our other cosmetic services, we invite you to contact Dental Partners of Newburyport today.