Newburyport Emergency Dentistry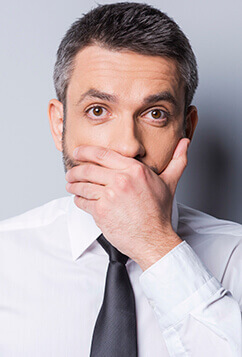 At Dental Partners of Newburyport, we know that dental emergencies can be frightening and painful. The best way to reduce the stress of dental emergencies is to be prepared. Having a plan in place to care for oral health during an emergency is essential. The first step in any emergency dentistry plan should be to contact our office right away. Dr. Peter St. Clair, Dr. Charles Beliveau, and our team do our best to offer same day emergency care, and we're happy to provide guidance to care for your smile until you arrive. We welcome patients from Seabrook, Amesbury, and beyond to contact us during dental emergencies, and it never hurts to learn a few first aid tips and tricks to keep you safe and pain free until you arrive including:
Clean – make sure you remove blood or debris from your mouth and from any broken or lost teeth. This helps to prevent infection which may impede recovery.
Cold – use a cold compress or ice pack at 20 minute intervals (20 on/20 off) to reduce pain and swelling. Cold is also an invaluable tool to slow blood flow.
Pressure – apply gentle pressure by biting down on clean cloth or gauze in any areas that are bleeding in order to stop blood flow and prevent further damage.
Preservation – in cases of tooth loss, we are often able to preserve the natural tooth if patients arrive at our practice quickly and take a few precautionary steps. By replacing a dislodged tooth in its original socket, patients keep the dental structure safe and moist improving our ability to restore the tooth. If patients are unable to replace the tooth in its vacated socket, storing it in a container of milk is another option to preserve the tooth.