Dental Implants – Newburyport, MA
Truly Innovative Tooth Replacement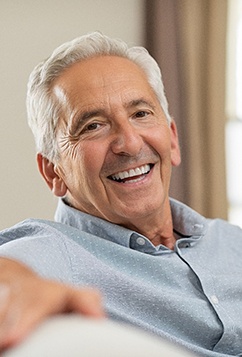 Are you tired of being unable to do basic tasks like speak and eat due to the inconvenient gaps left by missing teeth? Instead of settling for unreliable dentures or dental bridges, you can get the look, feel, and function of your natural teeth back with dental implants in Newburyport. By rebuilding lost teeth from the roots up, dental implants offer truly innovative tooth replacement that can potentially last a lifetime. Our team at Dental Partners of Newburyport collaborates with the best dental implant experts in the area to ensure your treatment is of the highest quality possible. Call us today to get started!
Why Choose Dental Partners of Newburyport for Dental Implants?
Partnered with Local Dental Implant Specialists
Two Dentists with 40+ Years of Combined Experience
In-Office Dental Financing Available
What Are Dental Implants?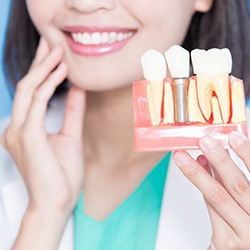 Meant to replace the roots of missing teeth, dental implants are small posts that resemble screws. They're usually made from titanium, which has biocompatible properties that encourage the jawbone to grow attached to the implant posts after they have been surgically placed there. Once the implants have integrated with the jawbone, our dentists can attach a crown, bridge, or denture on top of them – replacing every part of your missing teeth and bringing back your entire smile.
The 4-Step Dental Implant Process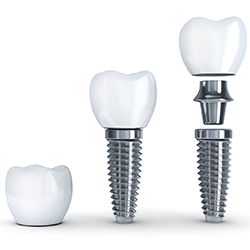 Consultation – First, our dentists will go over your oral health and medical history to ensure you're a good candidate for dental implants. Then, we can begin planning your treatment.
Dental implant surgery – A small incision is made in your gum tissue, allowing the specialist to precisely place the implant posts into your jawbone.
Osseointegration – This is the process of your jawbone fusing to the implant posts. Although it can take up to six months, it's the key to your new teeth being successful in the long term.
Restoration – After the implants have essentially become a part of your own anatomy, we can restore them with any number of prosthetic teeth.
Benefits of Dental Implants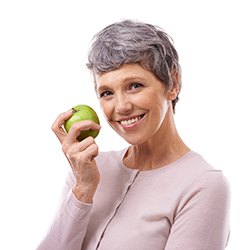 It's not an exaggeration to say that dental implants can be truly life-changing. Once the treatment is complete, your new teeth will feel and look so lifelike that you might even forget that your teeth had even gone missing in the first place! You'll be able to chew most foods, speak clearly, and smile with the same confidence you had before tooth loss. Additionally, your restorations can last for 30+ years on average, which may end up saving you money in the long run compared to traditional dentures and bridges. Read on to learn several benefits to enjoy with dental implants in Newburyport.
Day-to-Day Benefits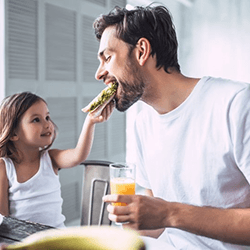 Enjoy your favorite meals: Dental implants will be directly anchored to your jawbone, providing an incredibly stable foundation for your new bite. Unlike dentures, these restorations will remain sturdy in your mouth, functioning as real teeth, and can help you regain 80% or more of your natural biting power. You'll be free to munch on all your favorite foods.
Lifelike solution: Not only will the implants function as your new tooth roots, but the restoration on top will be constructed out of porcelain to mimic your natural pearly whites. People won't notice the difference unless you tell them!
Easy cleaning routine: With dental implants, you won't need particular cleaning products or techniques to maintain them. You'll merely have to care for your smile like normally, such as brushing, flossing, rinsing with mouthwash each day, and making visits to your dentist twice a year for checkups and cleanings.
Health Benefits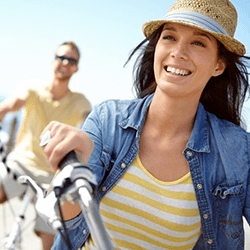 Jawbone preservation: Although dental bridges and dentures can replace missing teeth, they won't prevent your jawbone from shrinking or deteriorating due to a lack of stimulation in the tissue. Dental implants, however, provide the stimulation needed to promote proper bone growth to strengthen your jaw, which in turn can prevent your other teeth from shifting out of place.
Increased comfort: Dentures can often lead to gum irritation, and you might experience some tooth sensitivity with dental bridges. With dental implants, your restorations should feel natural, offering an exceptionally comfortable solution for rebuilding your smile.
Long-Term Benefits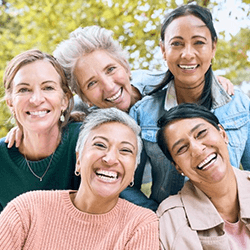 Incredible lifespan: While traditional tooth replacements like dentures and dental bridges typically last around several years before needing to be replaced, dental implants can remain for several decades to a lifetime! This can only work as long as you practice proper care, such as cleaning your teeth every day and scheduling checkups with your dentist every six months.
Many-saving solution: Since dental implants won't require replacements as frequently as dentures and dental bridges, you can potentially save more time and money with this treatment.
Reliable results: Dental implants tend to boast a success rate of 95% or more due to the advanced techniques and technology utilized to perform the procedure. Even after 10 years, your restorations should feel strong and healthy.
Who Dental Implants Can Help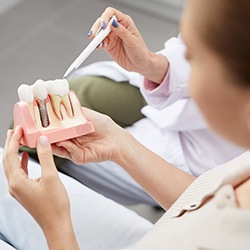 Dental implants are leaps and bounds more versatile than other tooth replacements. This solution can recreate any number of missing teeth, and the majority of healthy adults qualify. Here are some examples of how dental implants can rebuild your smile no matter how gapped it may be:
Missing One Tooth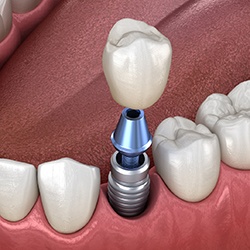 We can place a customized ceramic crown over a single dental implant post that has been inserted into the empty space. Unlike a dental bridge, an implant crown doesn't disturb the natural teeth on either side.
Missing Multiple Teeth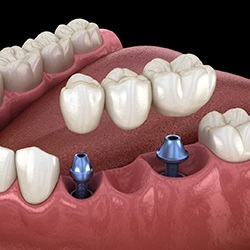 To replace two or more consecutive missing teeth, we can attach a bridge over two implants, each of which is positioned at one end of the gap. Again, this solution doesn't require the removal of enamel from healthy teeth. For numerous nonconsecutive missing teeth, a small number of implants can hold a partial denture in place.
Missing All Teeth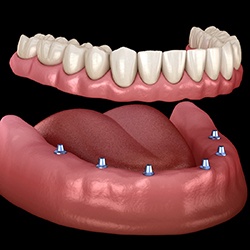 An implant denture offers a number of advantages compared with traditional dentures because this option restores booth the root structure and biting surfaces of teeth. Depending on the width and length of patients' natural jawline, a full arch of replacement teeth can be supported with between six and eight implant posts. Like a traditional denture, an implant denture is made up of replacement teeth set into a gum-colored base. In fact, we are often able to refit a patient's existing denture to be connected to implants, saving time and money.
All-on-4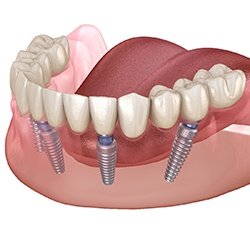 Patients with diminished jawbone density who are interested in replacing all of their teeth may find that All-on-4 dentures are a less invasive solution than bone grafting and other surgical procedures to prepare smiles to support dental implant retained prosthetics. As the name suggests, the All-on-4 dental implant procedure uses just four implant posts strategically placed to support an entire arch of replacement teeth. The front portion of the jawbone is naturally denser, so posts are placed into the front of the jaw, but positioned at an angle to provide the optimal level of support for the dental prosthetic.
Understanding the Cost of Dental Implants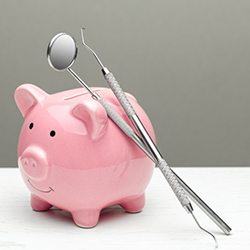 Every smile is unique, and so is every dental implant treatment. Because of the sheer number of variables that must be considered when getting dental implants (number of posts, type of restoration, preliminary procedures, etc.), it's nearly impossible for us to give a cost estimate before we've had the chance to review your specific case. Keep in mind that implants can last for a lifetime with the right care, so although they may seem expensive at first, they're an investment that more than pays for itself over time.
Maintaining & Caring for Your Dental Implants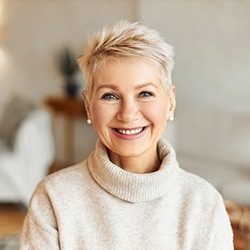 Dental implants are considered to be the gold standard for tooth-replacement options. Since they rebuild missing teeth from the roots up, they'll provide superior stability and lifelike function that you can't find with traditional restorations. Not only will you renew your complete smile, but you'll also preserve a stronger and healthier jawbone in the long run. To make the most of your brand-new pearly whites, you'll want to implement certain measures to help prolong them. Read on to learn more about dental implant care in Newburyport and the steps you should take to maintain your results.
Make Oral Hygiene a Priority
Although your implants won't ever be vulnerable to cavities, it doesn't mean the rest of your smile or mouth will be immune. Without proper care, you can still end up at risk of developing problems like gum disease, which can increase the chance of dental implant failure. To avoid these complications, make sure to brush twice a day, floss daily or after every meal, and rinse with ADA-approved mouthwash regularly.
Eat a Healthy Diet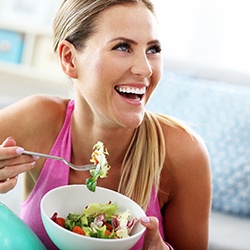 Other than keeping your smile clean, you'll want to ensure your remaining pearly whites, gums, and jawbone are healthy enough to support your implants. This can be done by maintaining a nutritious and vitamin-rich diet. Your meals can include foods like fresh fruits, vegetables, lean proteins, and dairy products to strengthen your gum line and promote healthy bone tissue. Since your implants won't require any dietary restrictions, choosing nutrient-dense meals shouldn't be a problem!
Break Bad Habits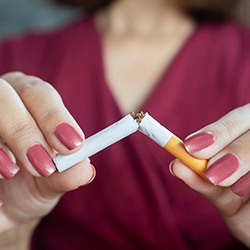 Are you a nailbiter? Do you often smoke or chew tobacco? Do you have a habit of chewing on pens or ice cubes? Although these habits may not seem like a big deal, you can end up wearing down your enamel and implants over time. This can end up increasing your risk of needing to replace your restorations prematurely, which can cost you more money than you anticipated. Try talking to your friends, family, and dental professional for support and guidance if you need help breaking any poor oral habits.
Protect Your Dental Implants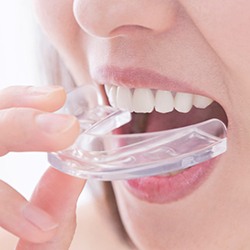 If you tend to grind or clench your teeth while sleeping, you might consider asking your dentist about nightguards for bruxism. These can help keep your smile and dental implants safe from getting worn out in the long run. You can also ask our team about mouthguards if you typically play sports, and we'll be more than happy to recommend the best products to protect your newly built pearly whites.
Schedule Regular Dental Checkups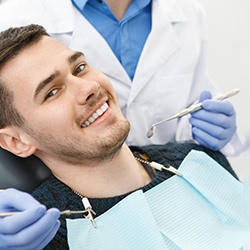 Even if you're diligent about your oral hygiene every day, there are areas in your mouth you simply can't reach on your own. That's why it's crucial to visit your dentist every six months for checkups and cleanings. Not only will they thoroughly polish your smile, but they can also address any developing or underlying issues they might detect in your mouth. By treating any problems early on, they can help ensure your dental implants last as long as possible!
Dental Implant FAQs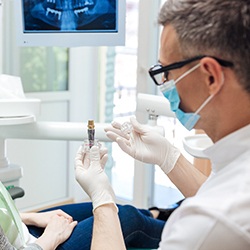 Dental implants are a preferred tooth replacement option because of their numerous benefits. However, they are quite an investment, so it pays to be well-informed. Here are the answers to some of the most common questions we receive about dental implants in Newburyport. If you don't see the information that you're looking for below, don't worry! Just give us a call and we'd be happy to answer your questions and get you started with an initial consultation to learn more.
How Long Do Dental Implants Last?
The lifespan of dental implants depends on the health and lifestyle choices of the patient. To ensure that implants last, it's important that you brush, floss, and rinse with mouthwash on a daily basis. Attend your regular cleanings and checkups, and avoid chewing on anything particularly hard or sticky. Dental implants can last upwards of 30 years with proper maintenance. This is several times longer than the average traditional bridges and dentures.
Does Getting Dental Implants Hurt?
The jawbone doesn't have very many nerve endings, and your mouth will be numbed with a local anesthetic before the procedure begins. You will also most likely be sedated, therefore lowering your body's ability to register pain. While the surgery shouldn't hurt, your mouth may be sore for a few days following your procedure. Take recommended over-the-counter and prescribed pain relievers as directed by your dentist. Cold compresses can also help to manage discomfort. If pain worsens instead of improving after two to three days, give us a call.
How Successful Are Dental Implants?
When placed by a skilled professional, dental implants can have a success rate of over 95%. The success rate of your implants will depend on how well you care for them with oral hygiene, routine checkups, and lifestyle choices. Success also varies depending on where the implant is located in the mouth. Since molars receive more strain from chewing than front teeth do, they may be slightly more likely to fail.
Can I Get Dental Implants If I'm Diabetic?
If your diabetes is under control, your odds of dental implant success is generally comparable to those of nondiabetic patients. Uncontrolled diabetes, can slow down the healing process, making it harder for your implants to integrate with your jawbone. If you are interested in getting dental implants but are diabetic, talk to your endocrinologist or primary care doctor about getting your blood sugar levels under control beforehand.