Dental Implants in Newburyport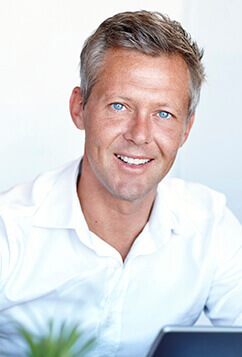 At Dental Partners of Newburyport, we offer patients an innovative, versatile tooth replacement option that effectively restores any number of missing teeth from the roots up: dental implants. Patients who choose dental implant supported tooth replacement should prepare for a two-part treatment process: placement and restoration.
Implant Placement
Dental implant placement is a minor surgical procedure. The number of implants necessary is dependent on the number of teeth being replaced. Before we begin the procedure, we carefully plan the placement of each implant to maximize patients' chances for success. We begin the surgical placement by making a small incision in the gum line for each implant post. We then insert the post into the gums. Over the course of weeks or months, the titanium post fuses with the jawbone creating a strong anchor for the dental restoration.
Restoration of Implants
Once patients have successfully received their implant, the osseointegration process begins. Osseointegration is the fusion of bone and implant posts that makes dental implant tooth replacement so successful. Dental implants can be crafted from a number of biocompatible materials though we typically recommend titanium as this material offers the most predictable success. Implants look like small screws, and overtime, the supportive alveolar bone and gum tissue fuse with the implants. Dental implants mimic the function of the tooth's missing root structure providing a solid foundation for any dental restoration.
In most cases, patients will need to wear a light weight temporary prosthetic as the implant undergoes osseointegration, but in some cases, we are able to attach a custom tooth replacement in a single day. The type of dental restoration used and the way we place them differ based on personal preference, safety, and necessity. We offer a wide variety of implant supported replacement options for patients missing any number of teeth from a single tooth to a full arch. The length of time it takes patients to complete osseointegration varies based on the number of implants, but once the process is complete, patients return to our office to exchange their temporary for a custom restoration.
Implant Retained Prosthetics
Implant supported tooth replacement options are as varied as our patients' unique smiles. We offer solutions crafted from a variety of materials including:
Individual teeth – we use a dental crown to replace individual missing teeth. Like a traditional crown, the implant supported restoration fits over the top of a dental implant the same way it would over natural dental structure. We craft implant supported crowns from a variety of materials like metal or porcelain bonded to metal, but we typically recommend all ceramic restorations for the most natural looking results.
Consecutive teeth – an implant supported fixed bridge effectively replaces 2 or more consecutive missing teeth. Depending on the number of missing teeth, these bridges may require several implants to provide optimal support. The series of replacement teeth are connected to one another, and screwed into position as a single unit attached to the implants.
Non-consecutive teeth – patients missing numerous teeth within an arch typically rely on a partial denture. Traditionally, partials are attached to the remaining healthy teeth with metallic clasps. This option provides a stable, durable restoration, but the metallic clips can damage healthy teeth. The implant retained partial dentures offer superior comfort and stability without the potential to damage healthy teeth or gums.
Full Arch Treatment Options
Replacing a full arch of teeth presents a number of challenges, and there is not a single option that is right for every patient. We offer a variety of smile restoration solutions for edentulous (without teeth) patients including:
Removable Dentures
Traditional dentures are crafted from a row of prosthetic teeth set into a gum colored base. This base is made from malleable materials molded to fit snuggly over the patient's gums using natural suction to hold the prosthetic in place. Patients may also utilize a small amount of denture adhesive to further improve the stability of their dentures. Removable dentures restore patients' ability to chew, speak clearly, and smile confidently. Unfortunately, patients are unable to eat many foods since they only regain between 10 and 25% of their chewing function compared with 70% or more with implant supported dentures. This significantly limits diet, and makes it difficult for patients to absorb the nutrients they need to maintain optimal health.
Implant Overdenture
An implant supported denture offers a number of advantages compared with traditional removable dentures because this option restores booth the root structure and biting surfaces of teeth. Depending on the width and length of patients' natural jaw line, a full arch of replacement teeth can be supported with between six and eight implant posts. Like a traditional denture, an overdenture is made up of replacement teeth set into a gum colored base. In fact, we are often able to refit a patient's existing denture to be connected to implants saving time and money. This treatment option helps patients maintain jawbone density and facial shape, but for those patients who already have significantly diminished bone density, traditional implant supported dentures may not be an option without further preparations such as bone grafting.
All-on-4®
Those patients with diminished jawbone density who are interested in replacing traditional dentures with a more stable solution may find that All-on-4 dentures are a less invasive solution than bone grafting and other surgical procedures to prepare smiles to support dental implant retained prosthetics. As the name suggests, the All-on-4 dental implant procedure uses just four implant posts strategically placed to support an entire arch of replacement teeth. The front portion of the jawbone is naturally denser, so posts are placed into the front of the jaw, but positioned at an angle to provide the optimal level of support for the dental prosthetic.
Implant Supported Fixed Bridges
A traditional fixed bridge is made by attaching one or more consecutive replacement teeth to two crowns that attach to remaining healthy teeth in order to support the dental restoration. To replace an entire arch of teeth with fixed bridges, a series of these dental prosthetics are crafted, and the dental crowns are attached to dental implants rather than natural teeth. This is likely to be the most natural looking and feeling option because there is no base material separating the tooth replacements from the gum line or implants. Depending on the size and shape of the patient's natural bite, we may need between six and eight implants. While this may seem like an ideal solution, it takes the longest amount of time to complete this process which may necessitate multiple surgical procedures and require patients to go without any type prosthetic for some time.