Newburyport Cosmetic Dentistry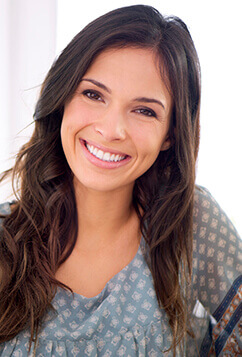 At Dental Partners of Newburyport, we're happy to help patients achieve any smile goals. Whether patients wish for straighter, whiter, or brighter smiles, our team of dentistry experts have the skills and training to help them get the picture-perfect smiles of their dreams. If you're interested in finding out more about cosmetic dentistry services, Dr. Peter St. Clair, Dr. Charles Beliveau, and our team invite you to schedule a consultation. During this evaluation visit, we make recommendations, answer questions, and develop a personalized treatment plan to guarantee beautiful results within a patient's budget, timeline, and schedule. Our Newburyport practice is happy to serve patients from Newbury, Merrimac, and other nearby communities.
ClearCorrect
Every year, more adults choose to seek orthodontic treatment to straighten crooked or unevenly spaced teeth and properly align their bite, but the thought of spending one or more years with a mouth full of metal keeps many of them from following through. Fortunately, our talented cosmetic dentists offer a more cosmetically appealing orthodontic option – ClearCorrect. Because ClearCorrect utilizes a series of clear removable alignment trays, patients' lifestyles are minimally impacted. ClearCorrect aligners are virtually invisible to the naked eye, and they are easily removed during meals and oral hygiene.
Tooth-Colored Fillings
For years, patients who've suffered from tooth decay have relied on gray or silver-colored amalgam fillings. While these restorations are durable and effective, they are not the most visually appealing solution, and overtime, they expand and contract due to the changes in temperature eventually breaking away from the tooth possibly leading to further damage or decay. We offer a cosmetic alternative – composite resin fillings. Made from tooth-colored material, these fillings allow patients to fully restore the shape and function of their teeth without damaging beautiful smiles. Sometimes referred to as direct fillings, composite resin is malleable, and can be shaped into position directly onto the natural dental structure. A curing light is used to harden the material onto the enamel restoring the tooth and creating a strong bond with the porous tooth enamel. Over time, this stronger fusion of the composite resin material with the tooth enamel leads to a more durable dental restoration than amalgam fillings though amalgam is a stronger material independently than the composite resin. When cared for properly, tooth-colored fillings can last just as long, if not longer, than amalgam fillings. We also use composite resin to offer cosmetic bonding. This treatment option uses the tooth-colored material to conceal minor smile flaws like chips or stains.
All-Ceramic Restorations
Much like tooth-colored fillings, all-ceramic restorations offer the ideal combination of restorative and cosmetic treatment. Whether patients need inlays, onlays, or crowns, an all-ceramic restoration is a durable, beautiful solution. In the past, restorations were crafted from gold, silver, or porcelain bonded to metal, but these restorations all have their disadvantages. Gold and silver restorations are long lasting and durable, but they leave an obvious mark on patients' smiles. Porcelain bonded to metal offers a less obvious appearance, but over time, these restorations tended to discolor around the edges. All-ceramic restorations are the most natural looking solution. They can be shaded to blend seamlessly into the natural smile line, and they reflect light in the same way that tooth enamel does for glittering results. Patients who choose all-ceramic inlays, onlays, and crowns receive predictably beautiful results that last for years to come. In most cases, the untrained observer will be completely unable to locate the restoration. Sometimes, patients don't even remember which tooth was treated, and can't see or feel a difference between their ceramic restorations and natural smile. Patients who have existing silver or gold restorations may choose to exchange them for a tooth-colored option, and we're happy to review replacement options during a cosmetic dentistry consultation.
Porcelain Veneers
One small chip in patients' teeth isn't a significant problem, but overtime, chips, cracks, stains, and other irregularities add up to a less than ideal smile. Many patients believe they'll need extensive restorative or orthodontic treatments to correct a lifetime of dental wear and tear, but in some cases, one simple, minimally invasive cosmetic dentistry solution offers patients the opportunity to hit the reset button on their smiles. Porcelain veneers are thin sheaths of high quality, dental grade porcelain shaped to cover the front facing surfaces of teeth. Patients who choose veneers have a small amount of tooth enamel removed so the veneer blends seamlessly into their smiles. That means veneer treatments are not typically reversible. Those patients interested in porcelain veneers should take time to thoroughly consider their treatment options and make sure veneers are the right solution. Once patients are certain they want to receive veneers, we prepare their teeth and take dental impressions that are used by our lab to craft custom veneers from the highest quality porcelain. Until the custom veneers are returned to our office, the patient wears a temporary restoration and returns to exchange it for the final version once it's returned from our lab.