Meet Ashley Mullaney, DMD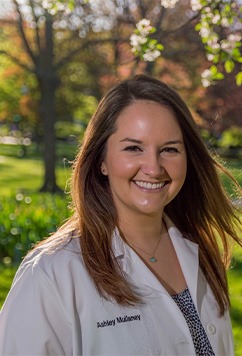 Dr. Mullaney received her Bachelor of Arts degree from UNH, and her Doctor of Dental Medicine degree from Tufts University School of Dental Medicine. Prior to attending Tufts, Dr. Mullaney achieved her Masters of Science in Toxicology at Colorado State University. After dental school, Dr. Mullaney gained valuable experience in a residency at the University of Vermont Medical Center and in private practice in New Hampshire.
Dr. Mullaney is a member of the American Dental Association, Massachusetts Dental Society, New Hampshire Dental Society, the Academy of General Dentistry, and the American Academy of Cosmetic Dentistry.
Dr. Mullaney enjoys spending time with family and friends, running in Maudslay State Park, hiking in NH/VT and playing ice hockey. She recently moved to Newburyport, where she lives with her fiancé John, whom she met at Tufts, and their new puppy Feta.
We are looking forward to working collaboratively with Dr. Mullaney. Her philosophy of care parallels that of Drs. Beliveau and St. Clair, and they are excited about continuing their education journey together, to serve our patients at the highest level.
More to Explore