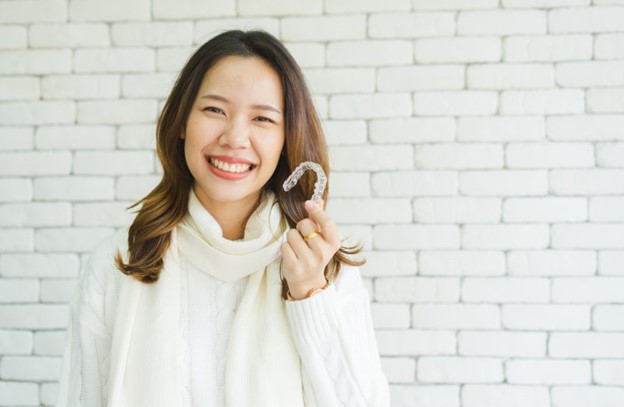 Many people these days desire a prettier and straighter set of teeth but don't have the time or patience to seek traditional orthodontic treatment. However, cosmetic options including Invisalign have taken the world of dentistry by storm, and now many people have access to the smile of their dreams through relatively convenient and subtle means! If you're thinking about getting Invisalign for your smile, here are 5 helpful tips that can prepare you for a successful treatment process.
1. Cut Back on The Snacks
Since you must wear your Invisalign trays for roughly 22 hours every day, you won't have much time for snacking. That said, it's not a bad idea to begin breaking this habit beforehand if you need to. Try to eat three square meals every day, with plenty of nutrient-rich fruits and vegetables, lean proteins, complex carbs, and healthy fats. Avoid excessive sugars and processed or ready-to-eat snacks and try to eliminate late-night snacking just before bed. If you're diligent about your dietary habits, it makes everything else about the Invisalign process much easier!
2. Brush Your Teeth After Eating
In addition to wearing your trays frequently, it's important that your teeth remain clean underneath them! They're still very vulnerable to tooth decay, cavities, and all sorts of other problems. You need to brush your teeth after every meal during your Invisalign treatment—this is a simple habit to establish, and it's crucial for your treatment's success. It also goes hand-in-hand with cutting back on snacking; if you focus on three meals per day, you can easily remember to brush after each one.
3. Buy All the Necessary Supplies
Your dentist will provide you with all your Invisalign trays and cases, but there are a few other useful things you might want to acquire. A Pull Tool is a special device that can assist you with removing your aligners. Also, extra-strength Tylenol could be useful for managing minor pain. Toothpaste for extra-sensitive teeth might be useful too; determine your individual needs and purchase accordingly.
4. Create A Portable Dental Kit
Once you have everything that you need, create a small dental kit that can travel everywhere with you. Being out and about does not exempt you from taking care of your teeth and aligners! Include a small toothbrush, toothpaste, mouthwash, and any other essentials in the kit, and remember to use them as needed!
5. Get Your Wallet Ready
Invisalign is a pretty big investment; not only are you investing in a better-looking and healthier smile, but you're also paying for the incredible boost in confidence that a gorgeous smile provides. That said, figure out the financial implications beforehand to save yourself a headache during your treatment. There is a lot of flexibility when it comes to payment, and certain insurance plans and dental offices sometimes have options that can make things more affordable.
If you're interested in Invisalign, talk with your dentist to see if it's right for you. These tips will help you prepare for a smooth and successful treatment process that will yield incredible and satisfying results!
About the Practice
The team at Dental Partners of Newburyport is proud to serve patients and families in the Newburyport area under the leadership of Dr. J. Peter St. Clair and Dr. Charles E. Beliveau. Dr. St. Clair and Dr. Beliveau respectively have several years of experience and expertise in a variety of fields, and their practice offers a wide range of available services including cosmetic options like Invisalign! If you have any questions about Invisalign or would like to schedule an appointment, feel free to reach out through the practice's website or by phone: (978) 465-5358.