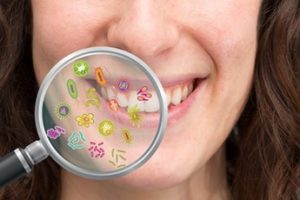 Have you ever wondered how many bacteria live in your mouth? The exact number is not known for sure, but it is estimated that between 500 to 600 different species of bacteria live on your teeth and tongue. That number doesn't even include how many live on the insides of your cheeks or the other tissues in your mouth. Read on to learn about a few types of oral bacteria, what they do and what you can do to get rid of cavity-causing bacteria.
Which Bacteria Causes the Most Problems?
When it comes to the mouth, there are quite a few different strains of beneficial and harmful oral bacteria. They gather everywhere in the mouth, including your teeth, gums, cheeks, the back of the throat and within the ridges of your tongue. The two most common types of bacteria that cause cavities are Streptococcus mutans and Lactobacillus. Treponema denticola and Porphyromonas gingivalis can multiply and cause your gums to swell and lead to gum disease.
How Fast Do They Multiply?
At any given time, you typically have about 20 billion strains of bacteria that live in your mouth. For example, studies show that the average person swallows about 1,000 milliliters (1 liter) of saliva every day, and 1 ml of saliva contains about 100 million microbes. If you multiply 1,000 ml of saliva by 100 million microbes, that means that you swallow 100 billion microbes in a 24-hour period. That is 5 times more than what you typically have! But these are just based on average numbers; actual numbers could be much higher!
How Can Harmful Bacteria Be Reduced?
The bacteria in your mouth all compete with each other in order to multiply. Their ability to multiply is often based on saliva production, your dental care routine and what you eat. Here are 3 ways you can help fight harmful bacteria:
Cut back on sweets: Cavity-causing bacteria feeds on sugar found in sweets, carbohydrates and certain condiments, so reducing the amount of sugar you consume will minimize their ability to multiply.
Chewing on xylitol-sweetened gum: Xylitol is a sugar-free, aspartame-free sweetener that inhibits bacterial growth, so it's great for your teeth and can help quell your sweet tooth with flavors like cupcake, chocolate and fresh fruit.
Proper Dental Hygiene: Brushing twice a day for 2 minutes and flossing at least once daily can also help protect your teeth and gums and restore your healthy smile.
The good news is that no oral bacteria is too strong to be controlled. Following these three steps and visiting your dentist at least twice a year for dental cleanings will help prevent dental issues and keep your smile healthy and beautiful all year round.
About the Author
At Dental Partners of Newburyport, Drs. Peter St. Clair and Charles Beliveau stay abreast of the latest trends in dentistry through continuing education courses in order to provide their patients with comprehensive, personalized dental care. Professional affiliations include the American Dental Association, The American Academy of Cosmetic Dentistry, Massachusetts Dental Society and more. If it's time for your first dental checkup of the year, contact the office at (978) 465-5358 or visit the website to schedule your appointment today.