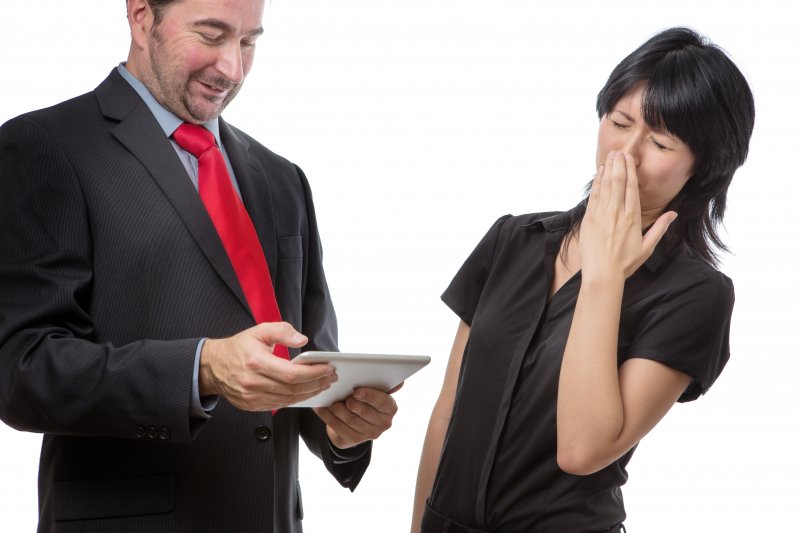 Everyone battles bad breath at one time or another. Whether you've just eaten a pizza with lots of garlic and onions or just woken up and haven't brushed your teeth yet, bad breath can happen to the best of us. However, just because it happens doesn't mean it should be a normal occurrence. In fact, if bad breath is a common occurrence for you, it may be because of an underlying issue. Hear from a dentist who shares some of the common causes of bad breath and what you can do to combat it.
What Is That Unpleasant Odor? Answer: Your Breath
If your morning breath has your face contorting to one of disgust, you're lucky no one else has noticed yet. Bad breath, otherwise known as halitosis, is an embarrassing issue that is caused by poor oral hygiene. When bacteria builds within the mouth, it can not only cause a variety of problems for your teeth and gums (gum disease, cavities), but it can cause an unpleasant odor that will be sure to keep everyone away.
What Are Some Common Causes of Bad Breath?
While you may be able to conclude your bad breath is the result of too many onions this time, there are other reasons your breath may carry an unfriendly odor. These include:
Smoking: In addition to the many health problems you may face, smoking also lessens your ability to smell and taste, and tobacco can irritate your gums. Therefore, many smokers are more likely to experience gum disease. If it hinders your ability to smell, too, you'll be less likely to know if your breath smells bad, leaving it up to others to either avoid or tell you.
Gum Disease: When your gums have plaque and tartar building around them, and it's grown far beyond gingivitis, you're experiencing advanced gum disease. This can create a foul taste in your mouth, giving you bad breath.
Dry Mouth: Saliva is necessary for washing the mouth of bacteria and food particles. However, if you are not staying hydrated enough, your saliva production may decrease, leading to bacteria buildup and bad breath.
Bacteria: A similar connection among all causes of bad breath is bacteria. When it's allowed to grow, either from food or poor oral hygiene, it can keep even your closest friends at arm's length.
Health-Related Conditions: If you have a sinus infection, diabetes, acid reflux, or even kidney or liver disease, you could experience bad breath.
How Do You Combat It?
If you want to do something about your bad breath, these simple tips can be a great way to say goodbye to the odor:
Brush and floss regularly (2 times a day for 2 minutes and floss once a day)
Stay hydrated
Watch what you eat
Use a tongue scraper to clean your tongue
Visit the dentist
Don't let bad breath get your down. Remember, it happens to all of us, but it doesn't have to be a common occurrence. By understanding what can cause bad breath and following the steps to combat it, you can attend that networking event feeling more confident and at ease knowing your breath is in check.
About the Practice
If you're looking for a dental team that is dedicated to staying up-to-date of the latest industry trends to provide the highest quality services, look no further than Dental Partners of Newburyport. Our team of dedicated professionals want our patients to feel welcome, comfortable, and informed about their dental needs. If you're looking to obtain optimal oral health and want to learn more about us, visit our website or call (978) 465-5358.