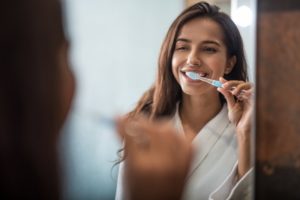 According to the American Academy of Periodontology, nearly half of American adults suffer from the harmful effects of gum disease. That's nearly 65 million adults that are 30 or older. This condition seems catastrophic, but it's actually easily preventable with routine visits to your dentist and a good oral hygiene routine. Knowing how the disease progresses and catching it while it's in its early stages can keep you from experiencing permanent symptoms. To learn more about this public health problem, keep reading.
What is Gingivitis?
Typically, your dentist will spot signs of gingivitis before periodontitis if you visit them routinely. Gingivitis is the early stages of gum disease that develops from the buildup of plaque and harmful oral bacteria in your mouth. When bacteria accumulate, they release acid that erodes your enamel along with toxins that cause inflammation of your gums. Although you may experience soreness and irritation, the condition hasn't begun to impact your teeth quite yet. When the condition is left untreated, it progresses into periodontitis, which exhibits more severe effects.
What is Periodontitis?
As gum disease progresses, it'll turn into periodontitis. At this stage of gum disease, you'll begin to experience more severe symptoms and signs such as tooth loss. Your oral tissues and gums will slowly begin to break down and become destroyed. Because these hold your teeth in place, as they start deteriorating, they'll begin to come loose or even fall out.
How Can You Spot the Signs?
The early signs of gum disease can sometimes be easy to spot at home. At first sight, it's important to call up your dentist and schedule an appointment. This way, they can professionally clean and treat the symptoms while they're still reversible. Some effects to keep an eye out for include:
Red, swollen, or sore gums.
Bleeding when brushing or flossing.
Receding gums that expose more of your teeth.
Loose teeth.
Chronic bad breath.
Often, this disease goes untreated, which can lead to patients needing additional dental procedures such as restorations down the road, making it incredibly costly.
How Can You Prevent Gum Disease?
The best way to prevent plaque and bacteria buildup in your mouth is to brush twice each day for two minutes and floss every day to remove food debris. This helps regularly clear your mouth of anything that can form into tartar and minimizes enamel erosion. Another great way to keep your mouth clear of harmful oral bacteria that cause gum disease is to rinse your mouth with antibacterial mouthwash every day.
By visiting your dentist for routine checkups and cleanings every six months, you can catch the disease in its early stages. They can treat it using a variety of methods and reverse the symptoms of gingivitis before it can lead to anything more serious like tooth loss.
About the Author
Dr. Charles Beliveau is passionate about giving his patients the treatment and knowledge they need to keep their natural teeth healthy and happy for their lifetime. Even though he graduated from dental school, he's still passionate about staying educated by routinely taking additional courses to sharpen his skills. These courses also keep him up-to-date with the latest and greatest advancements in dentistry so he can provide his patients with the highest quality of care. For questions or to schedule an appointment for gum disease therapy, visit Dental Partners of Newburyport's website or call 978-465-5358.