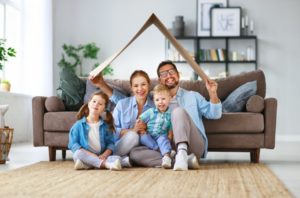 To slow the spread of the COVID-19 pandemic, the Centers for Disease Control and Prevention highly recommends practicing social distancing. As a result, whether you're in self-isolation or quarantine, chances are that you're spending much more time at home. While social distancing is the most effective way to protect yourself from the coronavirus, it's a completely new and somewhat overwhelming change for many of us. As you adjust to your new lifestyle, try these seven healthy habits from your Newburyport dentist to keep you and your smile in good shape.
1.) Keep Up a Routine
It's likely that your daily schedule completely changed overnight due to the current pandemic. Experts say that keeping a daily routine retains a sense of normalcy and reduces stress. Continuing to start and end your day by brushing your teeth will help keep your smile sparkling and your mind at ease.
2.) Reevaluate Your Brushing Habits
Now is a great time to focus on and perfect your brushing habits. A complete dental routine includes gentle brushing for two minutes twice a day and the daily use of floss and mouthwash.
3.) Don't Munch Mindlessly
Do your best to avoid mindless snacking or stress eating while in quarantine. Even eating healthy foods like fruit constantly throughout the day is enough to increase your risk of cavities.
4.) Stay Hydrated
It can be easy to forget to drink enough water as you spend a majority of your time in one place. Keeping hydrated is essential for your overall health and immune system, so set reminders or write notes to help you remember to drink a glass of water every now and again.
5.) Be Active at Home
Staying active for 30 minutes a day is important for both your physical and mental health. Indoor physical activity can include cleaning, dancing, playing with children, and online workout classes.
6.) Get Enough Sleep
A lack of quality sleep can negatively influence our emotional wellbeing and immune system. To improve your sleep, try establishing a regular sleep schedule all week long, disconnecting from electronics before bed, exercising regularly, and limiting your alcohol intake.
7.) Care for Your Mental Health
Taking care of your mental health is just as important as your physical health. The CDC recommends taking breaks from news stories and social media, setting time aside to unwind, and connecting with others to talk about your concerns and feelings.
Remember, practicing social distancing is the best way to stay safe during the COVID-19 pandemic. It may not be an easy lifestyle change, but these seven easy tips can help you and your loved one's stay healthy in this unusual time.
About the Practice
In accordance with Massachusetts Governor Charlie Baker's order to close all physical workplaces of non-essential businesses, Dental Partners of Newburyport is not currently seeing patients for routine dental care. However, we are still available to answer your concerns and provide emergency treatment, so feel free to contact us via our most updated contact information. If you have more questions, we can also be reached at our website or (978) 465-5358.