Veneers – Newburyport, MA
Concealing Flaws, Delivering Life-Changing Results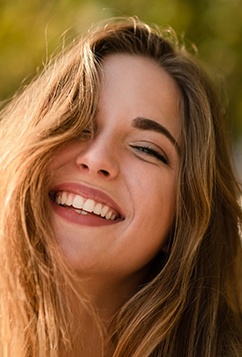 There are countless cosmetic dental treatments available that are designed to help you achieve a flawless smile. Chips, stains, misshapen teeth, cracks, discoloration, and even slight misalignment can be remedied with the help of veneers in Newburyport. These customized restorations have been changing appearances since the early 20th century but fortunately, materials have changed to make them more comfortable, more natural in appearance, and longer lasting. If you are interested in hiding the flaws that plague your appearance, contact our team at Dental Partners of Newburyport today to schedule a consultation.
Why Choose Dental Partners of Newburyport for Veneers?
Talented Cosmetic Dentists with Years of Experience
Flexible Financing Through CareCredit Available
Natural-Looking, High-Quality Materials Used
What are Dental Veneers?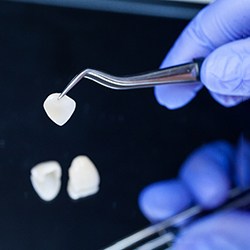 Dental veneers were once only accessible to Hollywood's rich and famous. Designed to cover the imperfections on teeth and change a person's smile aesthetics, these custom restorations remain one of the most popular cosmetic options available.
As small sheath coverings that fit over the surfaces of teeth, they are customized based on the specifications provided by a cosmetic dentist. The size, shape, and color of teeth can be transformed with the help of skilled technicians and updated, natural-looking materials.
The Process of Getting Veneers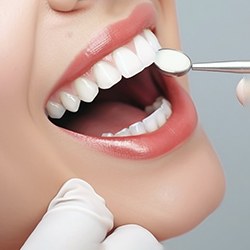 When choosing to have veneers placed over your teeth, you'll find that the process requires 2-3 visits to our office. The first step is to meet with your cosmetic dentist for a consultation. It is during this visit that you will go over any questions you might have about the process, potential concerns, and what you envision your new smile will look like.
After declaring you eligible for veneers, your dentist will remove a small portion of the tooth enamel from each surface before capturing impressions that will be sent to a local laboratory. To protect your teeth in between appointments, you will be fitted with a custom set of temporary veneers. This will not only safeguard your smile but also give you an early glimpse of what your permanent smile will look like.
After a few weeks, you will return to our dental office to receive your finalized set of veneers, and our team will carefully remove the temporaries before bonding the permanent ones in place. You will then walk away with a new and improved smile that you can be confident in.
The Benefits of Veneers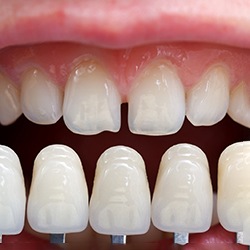 It's obvious that the most striking benefit of veneers is their ability to transform your appearance, but you may not realize that there are unique advantages of choosing these custom creations, such as:
The ability to feel good about the way you look. Having greater confidence in your appearance will help you both mentally and emotionally as well as physically.
The ability to achieve a newer smile in just 2-3 appointments.
The opportunity to embrace new opportunities that were once out of the question because of fear and embarrassment surrounding your smile.
Restorations that can last 10+ years with proper care and maintenance.