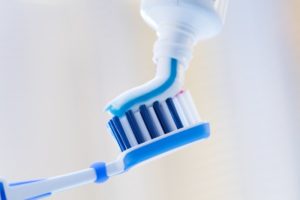 You (hopefully) use toothpaste twice a day, but do you spend a lot of time thinking about which kind you buy? The various types of toothpaste available may seem no different than each other, but they're each designed for a specific function. To help you choose which type of toothpaste is for you, your dentist has described each kind that's available at your local drugstore.
Fluoridated
The most common type of toothpaste is fluoridated. It makes up 90% of all toothpaste sales and has been proven to effectively reduce tooth decay and cavities. Fluoride strengthen the enamel of your teeth to protect them from acid damage and can also remineralize already decayed teeth.
Herbal
For those looking for a gentler oral cleaning experience, natural toothpastes are available. Herbal toothpastes contain only natural ingredients and are biodegradable. It should be noted that most of these toothpastes still contain small amounts of fluoride in order to properly protect your teeth against decay.
Whitening
Many fluoridated toothpastes are made specifically for whitening purposes. While these pastes are not as effective as professional whitening procedures, they can remove surface stains from your teeth. Those with sensitive teeth should be aware of the abrasiveness of this option.
Sensitivity
There are specific toothpastes designed for those whose teeth are sensitive to extreme temperatures or other toothpastes. The active ingredient in this type blocks microscopic holes in your teeth that leads to their nerve endings, protecting them from discomfort. The effects of sensitivity toothpaste can take up to four weeks, so do not be discouraged if you don't immediately feel the effects.
Tartar Control
Tartar is a hardened form of plaque that is difficult to remove outside of a dental office. When left untreated, it can cause gum disease and decay. While you can't simply brush tartar off of your teeth, tartar-control toothpastes can prevent the formation of this bacteria in the first place. It should be noted that this paste should be used as an addition to your plaque removal routine and not as a replacement.
Smokers
If you are a tobacco user, there are toothpastes designed specifically to combat the stains that come from excessive smoking. This type contains stronger abrasives compared to regular fluoridated pastes, so make sure not to use too much force when brushing with it.
The variety of toothpastes may seem dauting, but simple experimentation can help you discover your preferred kind. Talk to your dentist for their expert opinion and brand recommendations.
About the Author
Dr. Peter St. Clair has over 20 years of experience in the dental field. He is a member of the American Dental Association, Academy of General Dentistry and Massachusetts Dental Society. If you have further questions about your oral health routine, he can be reached through his website or at 978-465-5358.