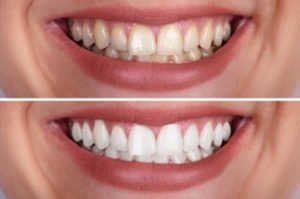 You've finally decided to enhance your smile with a professional teeth whitening treatment. But once your teeth are much brighter, what can you eat and drink that won't immediately damage your new smile? Read on to learn the best food choices for maintaining your results as long as possible. 
What to Avoid
After a visit to the dentist, many are ready to have lunch or dinner. But no matter how tempted you may be, it is important to avoid these items for at least 24 hours in order to keep your bright new smile white:
Drinks – Black tea, coffee, red wine, beer, dark sodas and sweetened or unsweet tea all contain a large number of tannins. Tannins are natural compounds found in plants and fruit skins that are used to create the deep reds and browns in wine, coffee and tea. These macromolecules can bind to your teeth and cause discoloration.
Foods/Spices – Red meats, red pistachios, berries, chocolate of ANY type and caramel can stain your freshly whitened teeth. So can condiments or spices like marinara or tomato sauce, vinaigrettes, soy sauce, turmeric, curry and even cinnamon. After a whitening treatment, you may experience temporary dental sensitivity due to the dehydration of dentin, the tiny tubules that sit just beneath your enamel and connect to your dental nerve. As your saliva begins to remineralize your teeth, they can still absorb the pigments from these foods and cause staining.
Other items to Avoid – You will also want to be sure to avoid using cigarettes, vape pens and other tobacco products after your session as well.
What to Enjoy
Luckily, there are many items that you can still enjoy after teeth whitening. Everything you put into your mouth can affect your treatment, whether it be food or drinks. Items that are approved for consumption after your procedure include:


White fish
Potatoes
Eggs
White rice and white beans
White potato salad or macaroni salad
Bagels, pretzels, original potato chips and pretzels (white dip is ok too!)
Light-colored fruits like apples, bananas or pears
White cheese
Milk or vanilla-flavored yogurt
Apple Juice
Green tea
Clear soda
Making the right food choices for both your oral health and dental appearance will help keep your smile bright and beautiful. If food and drinks are white or clear, they can be consumed without worry. But if you find that your teeth have found that you have accidentally damaged your smile, your dentist can help.
About the Practice
At Dental Partners of Newburyport, Drs. J. Peter St. Clair and Charles Beliveau are committed to providing patients with the highest level of service to everyone who enters their doors. Both doctors are consistently furthering their education in every aspect of dentistry. Their professional affiliations include the American Dental Association, the Academy of Dentistry, the American Academy of Cosmetic Dentistry and many more. If you are ready to achieve your best and brightest smile, visit the website or contact the office at (978) 465-5358 to set your appointment today!