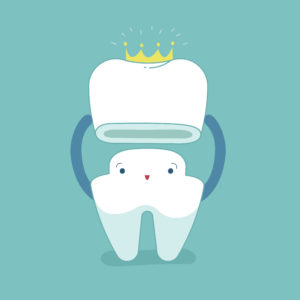 When a king wears a crown, it's merely for show. When a tooth wears a crown, it provides both cosmetic and restorative benefits. A filling may not be sufficient in some situations and could mean a crown is in the cards.
What's the process for getting a dental crown? Does it hurt? How do you ensure that it lasts? Keep reading to find out more about this restorative procedure.
Why Would I Get a Dental Crown?
There are several reasons you would potentially get a dental crown:
Protecting a tooth after root canal therapy
Attaching the restoration to a dental implant
Covering a misshapen or discolored tooth
Securing a dental bridge
Covering a tooth that has a surface mostly comprised of dental filling
Protecting a damaged or decayed tooth
What Happens When I Get a Dental Crown?
Typically, it will take two appointments. You may experience some sensitivity, but your dentist will likely give you an anesthetic just as they would for a filling.
At the first appointment, your dentist will examine the tooth and prepare it for a crown. They will take X-rays and file down the tooth – metal crowns need less tooth removed than porcelain crowns. Then, an impression will be made of the tooth getting the crown, as well as the teeth above it.
The impression will be sent to a lab to create a crown, which takes 2-3 weeks. During this time, you'll wear a temporary one.
At your second appointment, it will be time to get your crown placed. After removing your temporary crown, your dentist will check the color, shape, and fit of your new one before permanently cementing it into place. If needed, a numbing agent will be used to keep you comfortable.
Recovery and Caring for Your Crown
You will mostly deal with irritation or inflammation from the procedure itself, so the recovery process is relatively short. The tooth might feel different after the procedure since it could have a slightly different shape than your original tooth, but this is normal, and you'll get used to the feel after a few days. If not, let your dentist know so they can examine it and make adjustments.
Once you feel comfortable with your crown, the best thing you can do is treat it like you would a normal tooth. Brush twice a day and floss daily while paying extra attention to cleaning your dental crown. Avoid biting hard surfaces, like ice or peanut brittle, to prevent cracking, especially with a porcelain crown.
Dental crowns are one of the most common restorative treatments. With their lifelike appearance, durability, and long lifespan, it's not too hard to see why they are the choice of many. If you're struggling with a damaged or decayed tooth, it's important to remember that this tooth-saving treatment is designed to get you out of pain, not cause it. So, don't hesitate to get in touch with your dentist to see if a dental crown is the best option for you.
About the Practice
At Dental Partners of Newburyport, we are committed to providing quality services in a caring environment at a fair price. We go by what is known as the WIDIOM rule: "Would I Do It On Me?" We can offer a traditional crown or a fixed bridge, which is when dental crowns are used to support 1-3 replacement teeth. Our crown and bridge tooth replacements are sturdy and durable. They feel so much like natural teeth you might forget they aren't your own. To schedule a consultation, visit our website or call (978) 465-5358.