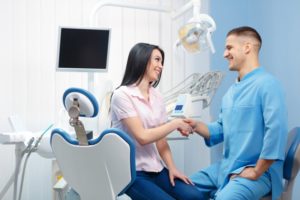 Each year, nearly 50,000 people are diagnosed with oral cancer. Because the best way to treat the condition is to prevent it from happening, it helps to know what the most common risk factors are. The better informed you are, the greater your chances of maintaining excellent oral health. As you continue reading, a dentist in Newburyport lists the 5 leading contributors to oral cancer.
#1 – Tobacco Usage
Whether smoked or chewed, tobacco is bad news. When used, it releases toxins inside the mouth that cause dry mouth and encourage bacteria growth. This can lead to gum disease, which, if not addressed in time, can contribute to oral cancer.
#2 – Heavy Alcohol Consumption
One of the primary problems with alcohol is that it is high on the glycemic index, which measures how fast a food or beverage converts to sugar once digested. Alcoholic beverages have some of the highest ratings, which means that overindulgence can increase oral bacteria growth, encourage the development of gum disease and possibly lead to oral cancer.
#3 – Excessive Sun Exposure
Although the number of related cases has decreased over the years, overexposure to the sun's UV rays can still increase the chances of developing oral cancer. The risk is greatest between the hours of 10 am and 2 pm, when the sun's rays are usually strongest.
#4 – A Weakened Immune System
Leading an unhealthy lifestyle can leave your immune system compromised. Some of the factors that affect your total wellness are the types of foods you eat, the amount of exercise you get weekly and the quality of your stress management. If there are deficiencies in any of these areas, you can be left with a compromised immune system, which can leave you more vulnerable to developing oral cancer.
#5 – Poor Dental Hygiene
Cleaning your teeth does more than just help you maintain a nice smile. It also plays a significant role in the quality of your oral and overall health. Brushing and flossing at least two times a day helps to control bacteria growth and plaque development. Failing to remain consistent in this area increases the risk of developing oral cancer.
In addition to taking heed to the above factors, it's of the utmost importance to maintain regular visits to a local dentist for cleanings and checkups. While there, you can also receive an oral cancer screening, which only takes around 10 minutes to complete. By undergoing the painless procedure, you can have the peace-of-mind of knowing the complete status of your oral health. With proactive and consistent effort, you have a better chance of avoiding oral cancer and enjoying a healthy smile for years to come!
About the Author
Dr. J. Peter St. Clair earned his dental degree from the Tufts University School of Dental Medicine. Throughout a career that has spanned nearly 30 years, he has maintained a commitment to excellence, taking several hours of continuing education. A member of the Academy of General Dentistry, Massachusetts Dental Society and other professional organizations, Dr. St. Clair provides preventive care, which includes oral cancer screenings, at Dental Partners of Newburyport. He can be reached for more information or to schedule a visit through his website.