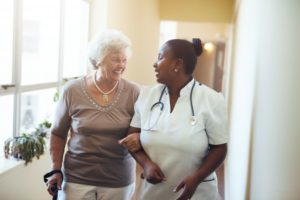 Most people probably don't mentally connect dental health to overall health, but your teeth hold much more of a stake in your quality of life than you may have imagined. It is well-known that as the body ages, it becomes more vulnerable to health conditions such as heart disease, stroke, and infection. However, it may be surprising to hear that bad oral health has also been linked to all of these conditions, putting the elderly at an even higher level of risk. Your expert dentist for seniors in Newburyport knows you want to ensure that your loved one in assisted living has a healthy smile for years to come. Keep reading to learn why it is so important that caretakers in assisted living environments stay on top of their seniors' dental maintenance, especially those who cannot physically care for themselves.
How Can Assisted Living Caretakers Keep Their Seniors' Teeth Healthy?
Whether seniors in assisted living homes need more or less assistance throughout their day-to-day lives, having a dental hygiene "cheerleader" to encourage them to maintain their oral health is a great thing! Here are a few of the different ways caretakers can help their seniors maintain overall oral health:
Biannual check-ups: This is a great way to detect early oral issues and prevent potential decay or damage. Oral cancer screenings are also a very important aspect of regular check-ups for your senior's oral health, as it is much more likely to develop later in life.
Regular flossing and brushing: For seniors who cannot perform these activities on their own, it is extremely important that their caretakers prioritize them on a daily basis. Daily flossing and brushing prevents plaque build-up and reduces the risk of your loved one suffering from periodontal disease.
Finding Solutions to Missing Teeth: For seniors who are missing teeth, it's important to try to find options to fill those gaps, such as dental implants or dentures. Having these procedures done helps to protect the gums from disease-causing and enables seniors to eat a healthy diet and maintain a social life. If your family member wears dentures, they should be encouraged to be diligent about cleaning them on a daily basis to prevent infection.
Dental care is important at any age, but as people grow older, it is even more crucial to ensure proper dental hygiene. Your dentist can provide more detailed information on the best ways for your loved one in assisted living to have a healthy smile for years to come.
About the Practice
Dr. J. Peter St. Clair and Dr. E. Charles Beliveau lead the team of professionals at Dental Partners of Newburyport. Their focuses are to treat everyone like family and build long-lasting relationships with patients who can trust them with their dental care for years to come. It is important for them to maintain the highest levels of accreditation by pursuing ongoing education, and they love sharing that knowledge with their patients. If you have any questions regarding senior dental care or want to know more about us, you can visit us online, or call us at (978) 992-3069.