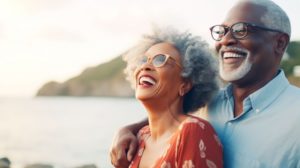 As the years go by, it's natural to see changes in your appearance. The wisdom you have gained through life may show through a few more wrinkles or a bit of gray hair. However, your age can also be revealed through your smile. Your pearly whites begin to change the more you live life. The good news is that cosmetic dentistry can help you turn back the hands of time on them! Read on to learn how aging changes your smile and how your dentist can help you have a youthful grin.
How Aging Can Impact Your Smile
Aging impacts many areas of your life, including your oral health. Over time, the impact can be seen on your teeth and gums. These changes include:
Discoloration: Teeth naturally begin to become stained or discolored as you age. Oftentimes, the change in color can be attributed to eating and drinking darkly pigmented foods and drinks, such as coffee, wine, and tomato-based sauces.
Shifting teeth: A natural part of the aging process is largely attributed to the force of gravity. As the muscles in the face begin to lose elasticity, the pressure on your teeth changes, causing them to move. Additionally, dental arches begin to narrow, leading to misaligned teeth.
Weakening enamel: Tooth enamel is the strongest substance in the human body but it is still susceptible to damage. It can wear down over time, especially if you grind your teeth. This weakening of the outer layer of the tooth makes them more likely to crack or break.
Receding gums: The soft tissues of your mouth can begin to recede as you age, exposing the tooth roots. This can increase the chances of getting cavities and gum disease.
How Can Your Dentist Take Years Off Your Smile?
Despite the toll that age can have on your teeth, there are cosmetic dental treatments that can turn back the years on them. Here are some great options for a more youthful smile:
Veneers: By placing ultra-thin shells of dental porcelain over the teeth, a range of dental imperfections can be instantly covered. Within two appointments, you can have a vibrant and age-defying smile!
ClearCorrect: This orthodontic uses a series of clear aligners to move your teeth into their desired position. They are not only comfortable but a discreet way to align your pearly whites.
Tooth-colored fillings: No longer do you have to have unsightly silver fillings when you need a tooth treated from decay. Now, your dentist can treat your teeth with tooth-colored fillings, leaving your smile blemish-free.
All-ceramic restorations: This dental service is the perfect combination of restorative and cosmetic dentistry. Whether you need an inlay, onlay, or crown, your dentist can use durable and natural-looking restorations made of porcelain bonded to metal.
Even though the passage of time is inevitable, you can still keep your smile in top condition! With the help of your dentist, you can keep your teeth looking youthful and vibrant.
About the Practice
Dental Partners of Newburyport is eager to help you achieve the smile of your dreams through their team of dental experts. With a commitment to excellence, their goal is to provide high-quality, personalized dental care so you can feel confident and proud of your teeth. With a 5-star rating on Google, they can help improve your smile with cosmetic dental treatments such as veneers and ClearCorrect. To schedule an appointment, contact them through their website or call (978) 465-5358