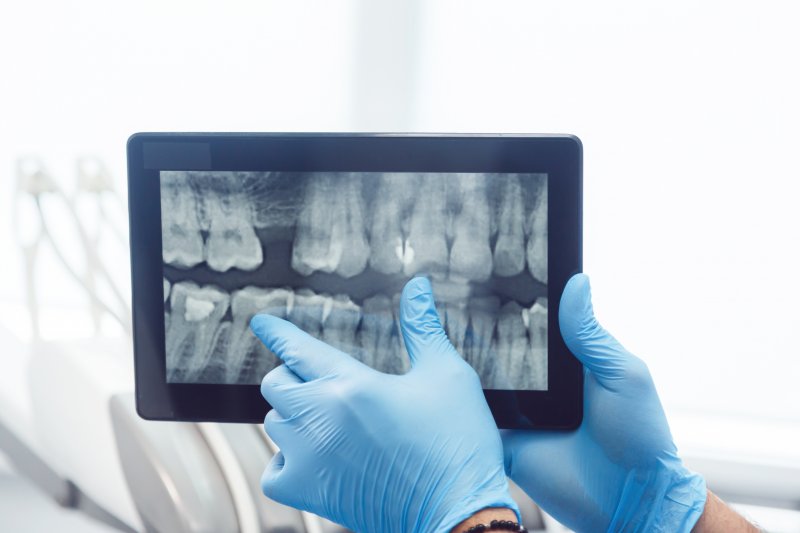 A lot of the times when you go to a regular dental checkup, you are expecting to need a routine x-ray. But have you ever thought about why it is a necessary part of maintaining excellent oral health? If you aren't in any pain, why would you need to go through the process of getting them done so often? Read on to learn more about dental x-rays, how they work, and the type of issues that your dentist is able to find as a result.
How Does a Dental X-Ray Work?
Dental x-rays are photos that are taken of the inside of the teeth and gums. To capture these photos, low levels of radiation are used. This works because soft tissues do not easily absorb the radiation, but bones and teeth do, so they easily show up when the image is taken. When compared to old school film x-rays, digital x-rays, which are typically used by dentists today, produce 90% less radiation levels, clearer images, and they process much faster. They are also able to organize the captured images in easily transferable files.
What Issues Can a Dental X-Ray Find?
When dentists are able to see much more than they can see with the naked eye, dental x-rays can point them towards numerous underlying oral health issues. Even when your teeth look great, there could be some problems that are hiding beneath the gumline. It's your dentist's job to get to the bottom of this so you can be treated for any problems as early as possible. Dental x-rays help dentists to diagnose things like tooth decay, bone loss, impacted teeth, and many other oral health issues.
How Often Do You Need a Dental X-Ray?
The number of x-rays that you require on a regular basis depend on a few different factors. For kids, x-rays are needs more often because the teeth are continuing to move around and erupt. Patients who haven't seen a dentist in a while may need to schedule x-rays more frequently. Another reason you may need an x-ray is if you're experiencing a dental emergency, like a toothache or another issue. In the end, your dentist needs up-to-date information to give you the best possible treatment. For most patients, an x-ray is required once a year.
With the help of dental x-rays, your dentist is able to recognize, diagnose, and treat oral health problems with much greater accuracy. If you aren't already, be sure that you are seeing your dentist to ensure that your records are up to date. You never know what you could discover!
About the Author
Dr. J. Peter St. Clair is an experienced dentist who has been practicing for over two decades. He earned his dental doctorate from the Tufts University School of Dental Medicine and is committed to continuing education to keep his knowledge and skills sharp. Currently, he is affiliated with numerous professional organizations, including the American Dental Association, Academy of General Dentistry Massachusetts Dental Society, and American Academy of Cosmetic Dentistry. For more information on dental x-rays or to schedule an appointment at his office in Newburyport, visit his website or call (978) 465-5358.