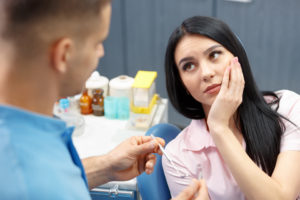 Do-It-Yourself or DIY is a huge trend in home décor, fashion, and cuisine, but what about oral health? Actually, DIY dental care is a bigger trend than many people know. A quick online search of DIY dental treatments will deliver some startling results. One of the most recent DIY dental care trends is at-home orthodontic treatment. While other DIY hacks may be less-than-effective, a DIY orthodontic fail can permanently impact your oral and overall health. DIY braces can be crafted from a number of materials including superglue, orthodontic wax, rubber bands, dental floss, and even paper clips. In addition to being potentially dangerous, they also look a lot less attractive than even the bulkiest bracket and wire braces. In this post, we'll discuss some of the many things you should keep in mind before deciding to try orthodontic treatments or other cosmetic dentistry procedures on your own.

1 – Your Results may not Last
Alright, say you manage to get the results you want using bubble gum and barbed wire, what happens next? In most cases, your teeth with slowly slide back out of place. Without a retainer, supportive structures won't hold teeth in their new position.
2 – You Could Lose One or More Teeth
When you glue things to your teeth, use paper clips or other non-professional items to place pressure on teeth, and other DIY tricks, you can easily damage your teeth. This may lead to a need for tooth extraction. Additionally, moving teeth away from their natural position too quickly can break the supportive bonds between teeth and bone and gum tissue. This can also cause teeth to be lost.
3 – You Could Damage Soft Tissue
Traditional braces can damage soft tissue if they're broken or damaged. Some patients experience soft tissue irritation or inflammation from properly functioning orthodontics. When you use dubious DIY materials, you are very likely to cause serious damage to gums, cheeks, lips, tongue and other soft tissues.
4 – Fixing Improper Orthodontic Treatment May Cost More Than You Saved
When you perform complex orthodontic treatments on your own without the years of training and education these services require, odds are you will make some mistakes. That means you'll have to pay a dentist or orthodontist to fix damaged teeth, redo orthodontic treatment, and help you restore your smile.
Meet the Dental Partners of Newburyport
Long story short, it's probably best to keep dental care and orthodontics to the professionals. At Dental Partners of Newburyport, our team of skilled dentists offer a variety of comfortable, affordable, effective orthodontic options to keep patients smiling. Put down the superglue and paper clips and pick up the phone to call our Newburyport dental office for an orthodontic consultation. DIY projects are fun, but when these projects have stakes as high as the loss of your smile, it's just not worth the risk. Let our team help instead.