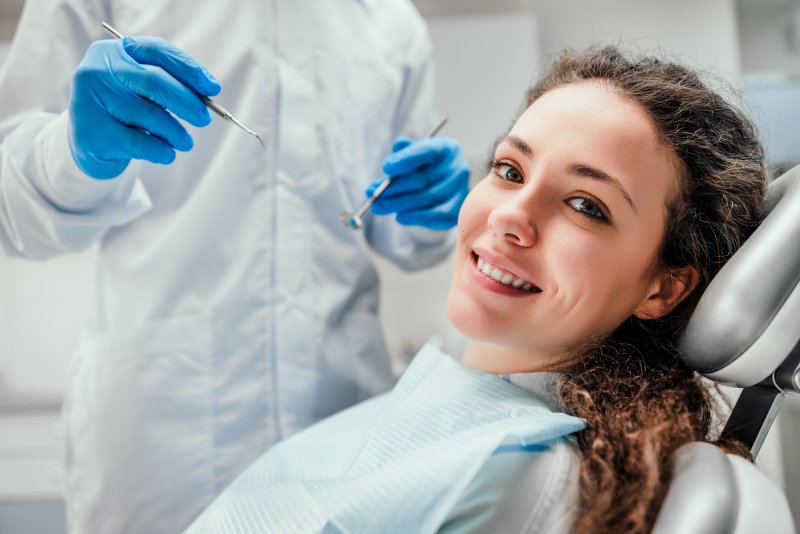 Everyone knows the importance of routine dental checkups when it comes to catching tooth decay and gum disease. But these aren't the only things your dentist is keeping an eye out for! While examining your mouth, they're checking for all kinds of issues you may not have thought about. Here are just 5 things that you never knew your dentist was doing during your biannual visits.
1. Performing an Oral Cancer Screening
Your dentist is in a unique position to catch oral cancer symptoms early on, which could make a big difference in your chances of successful treatment. They can look for abnormalities such as white and reddish patches, unusual lumps, and sores that might be signs of oral cancer. If there's anything to be concerned about, they can help you make the necessary arrangements for a biopsy.
2. Checking the Tongue
Your tongue can say a lot about your oral and overall health. During your checkup, your dentist can check the size, texture, and color of your tongue to see if there are any changes you need to be mindful of. For example, white patches on the tongue might indicate oral thrush, which could be linked to more serious health issues like diabetes.
3. Examining the Salivary Glands
The salivary glands play an important role in maintaining a healthy mouth. The saliva they produce helps wash away the harmful bacteria that can cause tooth decay and gum disease. Your dentist can quickly check to make sure that the glands are functioning properly and producing enough saliva.
4. Checking the Temporomandibular Joint
The temporomandibular joint, or TMJ for short, is what connects your lower jawbone to the rest of your skull. Problems with the TMJ can lead to jaw pain and might limit your ability to move your mouth. During your checkup, your dentist will take the time to make sure that your TMJ is working properly and that there aren't any signs of a developing disorder.
5. Examining Your Bite Alignment
Even after you reach adulthood, your teeth might move without you realizing it. This can throw off the alignment of your bite, making it more difficult to chew and causing your teeth to wear down at a faster rate. Regular checkups give your dentist an opportunity to identify any changes in the alignment of your bite and determine whether you might need an orthodontic treatment like Invisalign®.
These are just a few examples of what your dentist is doing during your preventive appointments. The next time you visit their office, feel free to ask them about what steps they're taking to protect your smile. You might be surprised at just how thorough their examination really is!
About the Practice
At Dental Partners of Newburyport, Dr. J. Peter St. Clair and Dr. E. Charles Beliveau seek to provide the highest level of service to every person that visits their office. They always treat their patients as if they were family, and they don't offer any dental procedures that they wouldn't perform on themselves. If you'd like to schedule a dental checkup at Dental Partners of Newburyport, please visit our website or call (978) 992-3069.