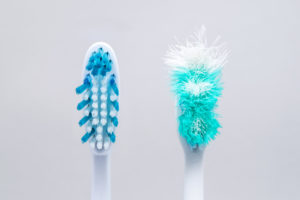 Have you ever paused before brushing your teeth to ask yourself "When should I change toothbrushes?" If the bristles on your toothbrush are flattened, frayed, or discolored, they may not be cleaning your smile as well as they should be. In fact, recent studies have concluded that using a toothbrush past its prime can lead to noticeable oral health issues. Your Newport dentist explains when you should replace your toothbrush and what might happen if you don't.
When to Change Toothbrushes
Your toothbrush may not have an expiration date like the food in your refrigerator, but it does have a predictable lifespan. The American Dental Association and toothpaste manufacturers recommend replacing your toothbrush:
After three to four months of use, or…
Once the toothbrush bristles have become frayed, or…
When you've recovered from a sickness like a cold or the flu.
Consequences of Using an Old Toothbrush
Dental experts have found that it takes about three to four months of regular use to fray the bristles on a toothbrush. This may happen sooner for those who brush aggressively. Once this happens, your toothbrush will leave behind a considerable amount of plaque even after brushing for two minutes. The bristles will also start to trap some of the debris they remove from your mouth, then redeposit them the next time you brush. This influx of oral bacteria and plaque buildup increases your risk of:
Bad breath
Discolored teeth
Tooth decay
Infections on the tongue
Gum disease
Tips for Choosing Your Next Toothbrush
You have two main options to choose from when it's time to replace your toothbrush: manual and electric. Traditional manual toothbrushes are affordable, widely available, easy to use, and come in a wide variety of styles to suit your brushing habits. On the other hand, the built-in sensors, modes, and timers in modern electric toothbrushes are a great choice for those with limited mobility or who need help improving their dental routine. Whichever type of toothbrush you choose, pick a product that has soft bristles and the American Dental Association's Seal of Approval.
Regularly brushing your teeth is your number one defense against a majority of oral health issues. Make sure your toothbrush is always up to the task of keeping your smile clean and healthy by replacing it regularly!
About the Author
At Dental Partners of Newburyport, we focus on keeping natural smiles happy, healthy, and beautiful for a lifetime. Dr. Peter St. Clair and Dr. Charles Beliveau encourage all their patients to come in for their routine dental checkups every six months in order to spot and stop oral health issues as early as possible. They also understand the value of patient education, so they would be happy to go over with you the best ways to care for your smile at home. If you have more questions about when to replace your toothbrush, feel free to contact them via their website or at (978) 465-5358.