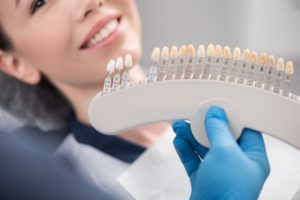 If you've been wearing porcelain veneers in Newburyport for a while, you may have noticed some slight discoloration. In response, you may be tempted to try an at-home whitening kit to improve your smile, but is that a good idea? Continue reading to find out whether there is a better alternative to consider.
What Causes Discoloration?
One of the benefits of porcelain veneers is that they are highly resistant to stains and discoloration. Over time, though, the consumption of darkly pigmented items like coffee, tea, beer, ketchup, mustard and others can start to take a toll on the veneers. Eventually, there can be noticeable changes in their appearance.
Can Veneers be Whitened?
Before attempting to use an over-the-counter whitener on your veneers, you should be warned that the outcome won't be favorable. The ceramic material that veneers are crafted from typically don't respond well to bleaching agents.
To be on the safe side, it's best to talk to your dentist before trying to brighten your smile on your own. In certain cases, a professional cleaning can remove some of the surface stains. Along with suggesting an effective schedule for return visits, the dentist can explain how to more effectively clean your teeth at home. If the veneers are significantly discolored, the dentist may recommend replacing them.
How to Properly Care for Veneers
If you decide to replace your veneers, the last thing you want is to waste your investment. To prevent being in a similar situation in the future, you'll need to exercise the same care you would with your natural teeth.
Here are some tips to implement:
Avoid tobacco usage, as the toxins released from smoking or chewing can cause deep stains and discoloration.
Limit your consumption of tea, beer, coffee, red wine and dark sodas and juices.
Steer clear of ketchup, mustard, pasta and soy sauce, curry, dark berries, balsamic vinaigrette and other richly colored food items.
If you consume a darkly pigmented food or beverage, be sure to rinse, brush and floss your teeth around 30 minutes afterwards to prevent any staining.
In addition to following the above protocols, it's quite worth it to maintain six-month visits to your dentist in Newburyport for cleanings and examinations. Along with helping to preserve an attractive smile, these visits enhance your oral health. This is significant to the lifespan of your veneers, as oral bacteria growth poses a constant threat. By contributing to a clean environment inside your mouth, the dentist can help to preserve your beautiful smile for years to come!
About the Author
Dr. J. Peter St. Clair earned his dental degree from Tufts University School of Dental Medicine. With over 20 years of experience, he still remains eager to stay abreast of the latest tools and techniques in dentistry. Thus, Dr. St. Clair takes several hours of continuing education annually. Additionally, he maintains professional affiliation with Spear Education, the American Academy of Cosmetic Dentistry and several other organizations. Dr. St. Clair creates gorgeous smiles with porcelain veneers at Dental Partners of Newburyport, and he can be reached for more information or to schedule a visit through his website.