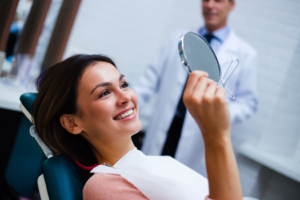 If during your last checkup, your dentist informed you that you have a cavity, you might be feeling a little reluctant to have it filled; it's just one more thing to worry about as the year begins to wind down! But cavities aren't something that you should ever leave unaddressed, as the oral health risks they pose are far too great. Not to mention, if you have dental insurance, you should want to take advantage of those benefits before they reset. Keep reading below to learn more about dental fillings and why you shouldn't hesitate to get one before the year's end; your smile and wallet will thank you!
When Are Dental Fillings Needed?
In many cases, severe toothaches and hypersensitivity are caused by extensive decay that's formed a cavity. Cavities are problematic because not only are they very uncomfortable, but they don't heal on their own; they worsen, destroying more and more of the tooth's structure as time goes on. It can even cause the tooth to fall out if left unaddressed!
Dental fillings are the go-to treatment option for cavities, and approximately 175 million are placed every year, making it a fairly common procedure (per the American Dental Association). Modern fillings are made from a special type of composite resin that blends in perfectly with your natural smile, while also offering numerous oral health benefits.
Are Dental Fillings Covered by Insurance?
Dental fillings are considered a "basic restorative service," which is good news if you have dental insurance—because it means that they're often covered! This coverage varies, but it's often anywhere from 70% to 80% (once the plan's annual deductible has been met). However, you'll always want to check the specifics of your insurance plan before committing to treatment, just to be certain.
Insurance companies understand just as well as dentists do that cavities become more difficult and expensive to treat if they're allowed to worsen, so it makes sense to address the issue early on, while it's cheaper and simpler to fix! Dental fillings can also last for five or so years, making them a cost-effective solution to cavities that leave a smile looking and feeling its best.
About the Practice
The talented team at Dental Partners of Newburyport has proudly served patients and families in the area for several years. The practice is fortunate to house three skilled specialists: Dr. J. Peter St. Clair, Dr. Charles Beliveau, and Dr. Ashley Mullaney. If you have any questions about the blog or you'd like to schedule an appointment before the year ends, don't hesitate to contact the practice online or over the phone for assistance. Telephone: (978) 465-5358.