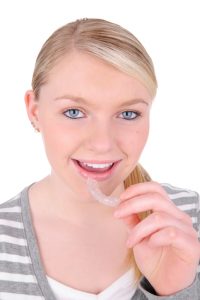 Living with crooked or misaligned teeth not only takes a toll on your confidence, it also affects your oral health. Crooked teeth are harder to keep clean and it increases your risk for issues such as tooth decay and gum disease. A misaligned bite can cause or contribute to jaw joint issues such as TMJ. Dental Partners of Newburyport have a solution for you. If you don't like the way braces look, you should consider trying Invisalign in Newburyport.
What is Invisalign?
Instead of using traditional metal brackets and wires to straighten your teeth, Invisalign utilizes clear plastic aligners that are designed to apply gentle pressure and straighten teeth gradually. Aligners are comfortable and easy to wear, fit snugly, and are virtually invisible.
Because your aligners are easily removed for brushing, flossing, and eating, there are no restrictions to your diet, or changes to your home care routine required during treatment. Most Invisalign cases can be completed in 12-18 months, making them a great option for busy adults or teens who want to straighten their teeth with discretion.
Will Invisalign Work for Me?
Dr. Peter St. Clair and Dr. Charles Beliveau are both certified Invisalign providers who can determine if this is the right treatment for your needs with an examination, photos, x-rays, and models of your teeth. If Invisalign suits your needs, they will create your treatment plan with 3D imaging, and even show you what your completed new smile will look like.
You'll receive your first set of aligners and will need to change them and check in with our doctors every two weeks. The result will be the smile you've always dreamed of and you'll be amazed at how confident it makes you feel.
At Dental Partners of Newburyport, we've been helping patients achieve the smile of their dreams for many years. Our doctors are highly skilled and trained in many advanced facets of dentistry, and we believe that we provide services and a level of care that you won't find at most practices.
If you've considered changing the appearance of your teeth through Invisalign or other cosmetic procedures, we invite you to contact our office to more about how Dr. St. Clair and Dr. Beliveau can help to improve your smile.