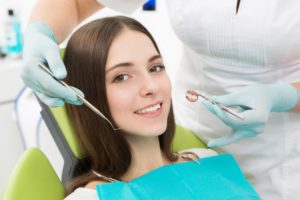 There are lots of reasons why you might have to look for a new dentist. Perhaps your old dentist is retiring, or maybe you just moved to a new area. Possibly, it's been a few years since your last dental appointment and you're ready to start taking your oral health seriously again. Whatever the case, you shouldn't just open the phone book and pick the first dentist you come across. It's important that you choose your dental care provider carefully so you get the top-notch attention and service you deserve. Here are four key things to look for when you're choosing a dentist in Newburyport:
A Friendly Atmosphere
If you get a little stressed out when you have a dental appointment, unfriendly people in the office are only going to make the situation worse. Read reviews of any dentist you're considering, and note how others talk about the staff in the office. Are they personable and knowledgeable? Are they good at explaining your options, and do they take the time to give every individual the personalized attention they deserve?
If the reviews look good, pop into the dentist's office for a quick reconnaissance mission. If the people there appeal to you, there's a good chance you've found your dentist.
A Modern Approach
While you're researching, find out what kind of technology a dentist uses. Older tools work well, but they may not be as effective or efficient as more recent innovations.
Updated technology is also a sign that your dentist is serious about continuing education. New discoveries are always being made, and new techniques are always coming to the fore. Plus, no one knows everything, but if your dentist puts a significant amount of time into learning, you can be confident that he or she wants to be as informed and capable as possible.
Cleanliness
If you need a dental procedure, you want to be confident that the tools your dentist or hygienist are using have been properly sanitized. You can ask about their sanitation procedures, but the state of the office in general will indicate whether they take cleanliness seriously. If you notice grime or other signs of untidiness, you might want to look elsewhere for a dentist.
Community Involvement
When a dentist is involved in the community, you can be sure that they truly care about others. That attitude will extend into the way they treat you. Ask if the dentist is involved in any local movements to promote oral health or if the employees in the office participate in any sort of volunteer programs.
Your oral health is a big deal, which is why it is important to be choosy when you're picking a dentist. Use the above guidelines to find a dental care provider who will be just right for you.
About Dental Partners of Newburyport
The entire team at Dental Partners of Newburyport is committed to providing top-notch care to their patients. If you would like to learn more about us, feel free to contact our office at 978-465-5358 or just stop in to say hi. We want to hear from you!