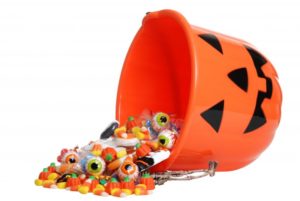 Halloween is right around the corner, and you know what that means: you and your family's favorite candies and sweet treats are here too. Watching your kids dress up in their superhero or princess costumes is definitely a highlight of the year. Plus, what's not to like about a holiday that encourages eating chocolate? It's definitely okay to indulge, but you can take some steps to ensure you and your children have a healthy Halloween. Keep reading to learn some precautions you can take to keep you and your family free of spooky cavities.
Time Your Candy Consumption Out Right
Snacking in general can increase your chances of tooth decay, and snacking on sugary candy doubles your risk. Because of this, try to limit your candy consumption to a few pieces after dinner. While you're eating, your mouth produces more saliva that naturally washes away bacteria and acid on your teeth. If you time it out so you eat candy for dessert, you're less likely to get a cavity.
Choose Your Candy Carefully
Have you ever gotten back from trick-or-treating with your kids and had way too much candy? You can pick and choose candy from your heaping pile that is better for your teeth than others. Hard sweets stay in contact with your teeth for a longer amount of time, causing a higher risk of cavities. Additionally, sticky candy can get caught in your teeth, which increases your chance of decay as well.
You can choose treats from your stash that dissolve fast in your mouth like powdered candy or chocolate. This way, you can still indulge, but you'll be keeping your risk of tooth decay to a minimum.
Help Those in Need
At the end of a fun night of trick-or-treating, you and your kids can dump out your loot and pick which sweets are your favorite. After that, the rest can be donated to food shelters or Operation Gratitude, an organization that sends candy to the American military overseas.
Your kids won't like that you're giving away their candy, but you can admire how much candy they've collected and explain how it will help those in need.
Brush Twice a Day
Just because it's a holiday, doesn't mean that you and your children can start slacking on your oral health routine. Brushing twice a day and flossing once a day is more important than usual as it's your best defense against sugar that causes cavities. Be sure that you're using fluoridated toothpaste for extra protection.
See Your Dentist
Regular dental checkups and cleanings are always important, but especially during this time of sugary indulgence, you should make sure you and your family have appointments scheduled. This gives your dentist an opportunity to make sure you didn't get any cavities over the holiday.
After reading the above tips, you now know how to have a happy Halloween, while keeping you and your kids healthy!
About the Practice
Dr. St. Clair and Dr. Beliveau are a team of dentists who enjoy providing personalized care to their patients in Newburyport. They like seeing patients for dental checkups and cleanings to prevent serious issues from developing. They currently practice at Dental Partners of Newburyport, and they can be contacted through their website or by phone at (978) 465-5358 for any questions.