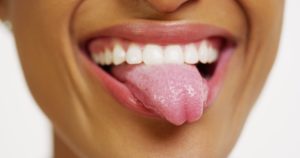 Do you maintain good oral healthcare? You brush in the morning and at night and you floss every day. Your smile looks beautiful and white, and your gums are healthier than ever. There are a lot of steps you can incorporate in your oral healthcare routine, but there's one you could be forgetting: cleaning your tongue. Without your tongue, you wouldn't be able to eat, speak, or taste food properly. This major mouth feature plays a huge role in our daily lives, but we rarely pay it any mind. Keep reading to learn how to clean your tongue properly and why it's important from a trusted dentist.
Why is Cleaning My Tongue Important?
Just like debris can build up on and in between your teeth and gums, your tongue can also harbor bacteria. If the bacteria aren't removed, they will harden into tartar which can only be removed by a professional dentist.
Your tongue is covered in little bumps called papillae. These little bumps collect bacteria, dead skin, and food particles. Not cleaning your tongue can result in bad breath and white discoloration. Your tongue can also redeposit bacteria onto your teeth even after you brush and floss, creating more plaque and tartar buildup. Cleaning your tongue should be a part of your daily oral healthcare to keep your mouth protected.
How Do I Clean My Tongue Properly?
Now that you know why it's important, you should know how to clean your tongue the best way possible. When you're done brushing your teeth, use your toothbrush to gently brush your tongue. This should be done after brushing, but before rinsing out your mouth so you can use the toothpaste residue to clean. You can brush your tongue, inside of your cheeks, and roof of the mouth to get all around protection from your toothpaste.
If you think you need a more thorough tongue cleaning, try a tongue scraper. This is a tool that can be bought at most drug stores and it is designed to glide on the top of your tongue, scraping away food and bacteria that get caught on the surface. To use the scraper correctly, stick your tongue out and slide the scraper from back to front. If you still see debris on your tongue, rinse your scraper and repeat your cleaning.
Maintaining proper oral healthcare is vital to your smile and your overall health. Now, you can add cleaning your tongue to your daily routine for more protection against dental issues and bacteria. Your tongue is the reason you can talk, chew, swallow, and taste all your favorite foods so make sure you're cleaning it to keep it healthy!
About the Practice
Dr. J. Peter St. Clair and Dr. E. Charles Beliveau both enjoy caring for their patients and educating them on the best dental practices to keep them healthy. They remain up-to-date on all the latest dental techniques and information through continuing education. They currently practice at Dental Partners of Newburyport, where they can be contacted through their website or by phone at (978) 465-5358.