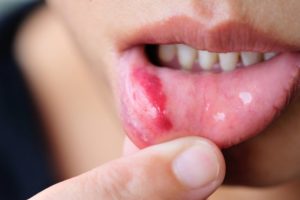 It's a beautiful spring day with a nice breeze blowing, but you aren't able to enjoy it because you have a menacing canker sore in your mouth. This is a real damper because you won't be able to drink or eat comfortably. You want to know what you can do about this and how to prevent it in the future, so read on, as your dentist gives some tips for protecting your oral health.
What is a Canker Sore?
A canker sore is a small ulcer that is found inside the mouth, usually along the cheeks, tongue or lips. It can cause discomfort when you talk, eat or drink, and is especially painful when it meets any acidic foods or drinks.
These painful sores can appear in both males and females and will typically arise between the ages of 10 and 20. However, there are cases where patients have been as young as two years old.
What's the Cause?
Researchers have yet to be able to pinpoint one cause for canker sores, but they have found that eating a diet high in acidic foods like lemons, oranges, pineapples and other citrus fruits plays a role in encouraging this condition to arise.
Here are some other contributing factors:
Hormonal fluctuations and family genetics play a significant role in developing canker sores.
Eating a diet high in sugars and other processed ingredients has also been found to contribute.
Ill-fitting dentures can irritate your soft tissues and cause sores.
A final contributor is a diet that lacks vitamin B-12 (which is found in foods like eggs, dairy products and seafood).
Effective Treatments for Canker Sores
Thankfully, there are ways to treat this problem and restore an equilibrium:
Rinses – A hydrogen peroxide or salt-water solution can be used to rinse the mouth to lower the pH level.
Numbing Agents – You can consider the purchase of a numbing agent like Orajel to help provide some pain relief.
Protective Pastes – You can also try making a paste out of baking soda and water to aid in reducing the acidity in your mouth.
If these treatments don't seem to work after a while, then you should reach out to your dentist so that you can be examined. He'll determine, based on the severity of your case, what the next steps should be.
Preventing Canker Sores
One the best methods available for preventing canker sores is to visit your dentist semi-annually for cleanings and examinations. Thus, if there are any signs of a problem developing, you'll have a professional on hand to guide you in regaining a healthy mouth, teeth and gums.
To schedule your first appointment, reach out to your dentist today!
About the Author
A graduate of Tufts University School of Dental Medicine, Dr. J. Peter St. Clair has been caring for patients for over two decades. A current Faculty Club Member at Spear Education, he is considered an authority in the field of dentistry and can be found delivering expert care at Dental Partners of Newburyport. Dr. St. Clair can be reached for more information through his website.