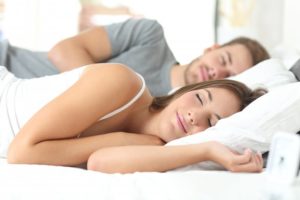 According to recent research, there appears to be a correlation between individuals who start treatment for their sleep apnea and their body weight. While it makes sense that having a more restful night's sleep should provide more energy, the assistance that positive airway pressure machines provide could actually cause people with sleep apnea to rely on them more than they should.
In today's post, we'll examine the data we have now so you can learn more about the debate!
There are Many Factors At Play
To this day, the debate of whether sleep apnea treatment increases or decreases weight in patients is a tricky one. It makes sense for patients to have more energy after getting better sleep and therefore have the ability to exercise more during the day. However, other cases have shown that people who are treated for sleep apnea, specifically through positive airway pressure (PAP) machines, are more likely to burn fewer calories while sleeping. This is due to the body exerting less effort to breathe during sleep.
Furthermore, sleep quality isn't the only variable that affects weight. Changes in the patient's diet, appetite and hormone levels can all influence weight, not just the changes in their sleep patterns. Therefore, determining the exact cause of weight gains or losses becomes increasingly difficult.
The Available Data is Limited
The number of controlled experiments to determine the cause of weight changes is more limited compared to data gathered from medical records and retrospective reviews. Through these uncontrolled and observational studies, researchers can examine those who are currently undergoing PAP treatment, but have no control group to compare it to. Plus, there's no way to know if they received weight loss management from a third party, meaning the weight loss that occurred could not be related to the sleep apnea treatment at all.
Fortunately, there are some recent studies available on controlled experiments today. Based on a meta-analysis, which is a study that takes data from several other studies, researchers can compile data to form conclusions related to sleep apnea treatment and weight loss. After examining 25 randomized control trials, researchers can examine experimental and control groups, one which receive sleep apnea treatment and one that does not.
The Bottom Line
After completing the meta-analysis, researchers came to the following conclusions:
New PAP users experienced a slight increase in weight, estimating between 0.22 and 0.53 lbs.
The ranges of weight change following PAP use varies from a decrease of 2.2 lbs to an increase of 4.4 lbs.
More than half of the studies available involved 50 individuals or less.
More than half of the studies lasted three months or shorter.
The authors of the studies used could not examine other influences on weight, such as diet or physical activity.
Overall, the correlation of weight loss and sleep apnea treatment needs to be studied further.
Are you suffering from untreated sleep apnea? Schedule an appointment with a dentist today to learn how you can get a better night's sleep!
About the Author
Dr. J. Peter St. Clair earned his DMD degree from Tufts University School of Dental Medicine. Since then, he's become a member of the American Association of Sleep Medicine and offers multiple forms of treatment for those struggling with sleep apnea. To learn more about his practice, contact him through his website.