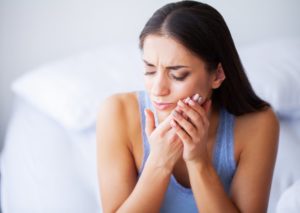 Because of their versatility, porcelain veneers in Newburyport are able to fix a host of smile flaws. However, their placement requires a thin layer of enamel to be removed. Will this contribute to tooth sensitivity? Continue reading to get the answer from a local cosmetic dentist.
Should You Expect Tooth Sensitivity?
The purpose of the enamel removal is to allow the veneers to fit flush into the smile line. This leaves a portion of the sensitive dentin exposed, which can cause some temporary discomfort. The good news is that it usually subsides within a few days or weeks. It's also worth noting that everyone won't experience the sensitivity.
What Happens if You Continue to Experience Sensitivity?
Any discomfort that continues for more than a couple months may be indicative of a bigger problem. Therefore, you'll need to reach out to the dentist to schedule a visit.
Here are some of the reasons you could experience prolonged tooth sensitivity:
The veneers weren't placed properly.
There is a pre-existing oral health issue.
There is a crack or chip in one of the veneers.
Bite misalignment has caused the veneers to shift.
If necessary, the dentist may suggest removing the problematic veneer(s) and performing a new application.
Ways to Ease any Discomfort
One of the benefits of veneers is that they cover the exposed dentin, acting similarly to the missing enamel. For many patients, this suffices to prevent any tooth discomfort.
Here are some of the other ways to calm any initial sensitivity:
Brush your teeth after each meal.
Consider only drinking room temperature fluids.
Avoid any compulsive chewing or grinding of your teeth.
Take an over-the-counter pain medication like ibuprofen (Advil, Motrin, Aleve, etc.).
Place a teaspoon of salt in a cup of water and rinse your mouth up to three times a day.
Avoid hard foods like peanut brittle, hard candy, corn on the cob and other items that place pressure on the teeth.
While these measures aren't sure-fire ways to avoid tooth sensitivity, you can never go wrong taking extra precautions. When you visit a cosmetic dentist in Newburyport, you can get more details about the porcelain veneers process and extra pointers about how to avoid or alleviate any sensitivity.
In most cases, patients are able to get back to leading a normal and painless life in just a few days. From that point forward, they can display their gorgeous new smile for the world to see!
About the Author
Dr. J. Peter St. Clair earned his dental degree from the Tufts University School of Dental Medicine. A lifelong learner, he is a student and faculty member at Spear Education. Additionally, Dr. St. Clair maintains membership with the American Academy of Cosmetic Dentistry and several other professional organizations. He creates beautiful smiles with porcelain veneers at Dental Partners of Newburyport, and he can be reached for more information or to schedule a visit through his website.