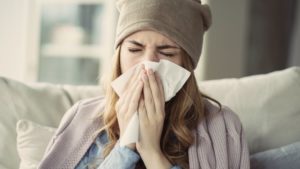 It's November, which means flu season is here in full swing. People all around you have started coughing and blowing their noses. Once you get sick, your dental health is probably the last thing on your mind. But having a cold or the flu can severely impact your teeth and gums in a negative way. A dentist is here with five tips to stay healthy during flu season.
1. Brush Your Teeth
Being sick can be exhausting, so it can be hard to find the energy to do basic tasks like brushing your teeth. However, not doing so can give you cavities and gum disease, so your mouth will thank you if you brush twice a day for two minutes at a time. Moreover, try to floss at least once a day.
2. Drink Plenty of Water
Staying hydrated is important when you're sick, because it helps your body fight off the infection. It also combats dry mouth, a condition where you don't have enough saliva in your mouth, which is common when you can't easily breathe through your nose. Saliva helps wash away cavity-causing bacteria, so dry mouth increases your chance of developing gum disease and tooth decay. Stay hydrated by loading up on water. Orange juice or soup will also do the trick.
3. Get a New Toothbrush
As soon as you start feeling better, replace your toothbrush (or toothbrush head if you use an electric brush). Your old toothbrush can harbor plenty of old bacteria that could re-infect you later. You don't want to get sick again just after getting better!
4. Gargle with Saltwater
Let a tablespoon of salt dissolve in a glass of warm water. Gargle and spit until the water is all gone. This cuts down on harmful bacteria in your mouth and throat, helping you feel better as well as reducing bad breath and plaque.
5. Choose Sugar-Free Medication
A lot of liquid cold medications and cough drops are loaded with sugar. Even when paired with medication, this sugar can hurt your gums and result in cavities. Look for cold medicine that's sweetened with alternatives to sugar like sucralose or xylitol. If you can't find any, then brush your teeth immediately after consuming your medicine to keep the sugar from harming your teeth and gums.
There are a lot of ways that cold and flu season can affect your oral health that you might not have thought about. Keep these tips in mind to keep your mouth in good shape.
About the Author
Dr. J. Peter St. Clair has been practicing in Rowley since 1996 and Newburyport since 2008. He is a current Faculty Club Member at Spear Education in Scottsdale, AZ, one of the world's leading post-graduate dental education facilities. His goal is to help patients understand their oral health and provide tailored treatment options to improve and maintain health and quality of life in a supportive and caring environment. To learn more tips to stay healthy during flu season, click here to contact Dr. St. Clair's office.