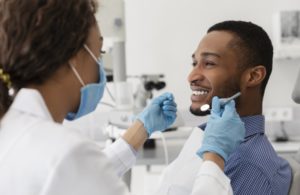 When most of us visit our dentist for a checkup, we expect them to be the one asking all of the questions. For example, they might inquire about how often we floss or whether we've had any discomfort. In order to keep your mouth as healthy as possible, they shouldn't be the only ones asking the questions. Your dentist's team is there to help you improve your oral hygiene and health. Here are five questions you should ask your dental hygienist at your next cleaning.
Are My Medications in My Chart Up to Date?
Sometimes, it can be easy to forget medication changes you may have made since your last visit. At every appointment, be sure to mention all of the medications you're taking, as well as their dosages. The hygienist can then update your chart and ensure the dentist doesn't administer or prescribe any treatment that could interact negatively with your medication.
How Can I Keep My Teeth Healthier at Home?
Even if your dentist or hygienist don't spot any problem areas in your mouth, it's never a bad idea to learn how you can keep your pearly whites clean in between appointments. They'll gladly recommend products or cleaning techniques to really make your smile shine.
Is There Anything I Should Tell My Family Doctor About?
Many overall health issues, like diabetes, can present oral symptoms. Your dentist might notice these signs and suggest you talk to a specialist or your primary care physician about them.
Do I Have Anything Unusual in My Mouth?
If your gums start bleeding when the hygienist flosses your teeth, it might indicate gingivitis, the first stage of gum disease. Sores or bumps in the mouth could be signs of other problems like infection or even oral cancer. The sooner these issues are spotted by your dental team, the easier (and more affordable) treatment will be.
When Can I Schedule My Next Appointment?
Most people should see their dentist at least twice a year for a routine checkup and cleaning. A lot can happen in six months, though, and before you know it, the time for your next appointment can pass you by. To make sure you stay on track with your oral health, go ahead and book your next visit before you even step out of the office doors.
Your dentist wants you to have a healthy mouth just as much as you do. The next time you see them, don't be shy. Take the time to learn as much as you can about keeping your smile healthy and bright!
About the Author
Dr. J. Peter St. Clair is a dentist in Newburyport, MA who obtained his Doctor of Dental Medicine degree from the Tufts University School of Dental Medicine more than two decades ago. He is an active member of multiple professional dental organizations and is even a Faculty Club Member at the prestigious Spear Education in Scottsdale, AZ. He offers a wide range of preventive services to help you maintain a healthy smile. To schedule your next checkup, you can contact his office by calling (978) 465-5358.